Hinduism Exposed
http://www.blessedquietness.com/journal/housechu/hindu.htm
TEN COMMANDMENTS OF LIFE FOR HINDUS
AND THE NEW AGE MYSTICS:
My personal observations in green are based on
my observations growing up with Hindus in East Africa.
I -YOU ARE THE CENTER OF THE UNIVERSE–
          Make sure everyone around you knows it.

II – THERE IS NO SUCH THING AS TRUTH,
AND THERE IS NO SUCH THING AS A LIE
          Anything not included in that statement does
          not matter anyway.
          Do whatever turns a profit.
          The golden rule of Hinduism is,
          "Rip off everyone and buy gold in Bahrain."


III – DO NOT GET CAUGHT–
          If caught, blame Kali or the Prime Minister,
          and offer a generous bribe.

MAHATMA GHANDI IS IN WISCONSIN

I was talking on the phone with our correspondent, Dave Casper, in Wisconsin this morning. We were discussing all the Hindus who have come to the USA and rescued gas stations and motels. Also, we noted that they have heavily moved the White race to turn against eating meat. Dave asked why, and I told him the theological reason. I am very well versed on Hindu theology, having many of their books and having grown up with Hindus.

Hinduism says that there are 12,000 cycles of reincarnation for everyone. With each reincarnation, we work off more and more of our bad karma, and we progress upward each time. Eventually, we reach the Brahman mind and Nirvana. At that point we are in a state of nothingness, and we are to believe that we will be happy once our mind is empty and we don't know who we are. San Francisco is well on its way!

With each reincarnation we come back as a rat or as a guru, depending on whether we have been good and advance, or if we have been naughty and regress to the animal world. This is why Hindus will not eat meat. They are terrified that they may eat their grandmother or uncle. The Jains even believe the bugs and roaches are spirits on their way to Nirvana.

Imagine that– Your Roach Hotel is massacring thousands of innocent souls who are just trying to eat their daily crumb and wend their way to Nirvana.

Shirley McLain and her mob repackaged this loonie reincarnation doctrine for Gringos and reduced the trip to four reincarnations because Anglo Saxons would not possibly buy into something that took 12,000 tries to get it right.

Mahatma Ghandi once said, "Reincarnation in Hinduism is a burden too heavy to bear." He was not really a very good Hindu. Dave and I speculated that Ghandi may have had to go back down the chain of reincarnation to be a rat or duck to pay for his nerve in questioning the doctrines of Shiva et al.

Ghandi hated Black Africans intensely and massacred many in South Africa as a Major in the British Army. He admitted that he was a poor husband and neglected his wife. He covered up the murder of an American engineer in India by his followers. There is a lot of bad Karma coming down for Ghandi. MORE

Well, while we were on the phone, Dave suddenly shouted, "Ghandi is swimming by the end of my dock." It turns out, and this has to be earth shaking, that Ghandi is a beaver in a lake in Wisconsin. He was seen with a wad of grass in his mouth (what else?) which he was using to build his beaver lodge.

Dave Casper has promised to get us a digital photo of Ghandi soon, and we are considering keeping track of him through the winter.

Folks, you just don't get the real news if you never check in at Blessed Quietness Journal 🙂

IV – BELITTLE EVERYONE YOU CAN,
INCLUDING YOUR WIFE AND CHILDREN
          As you beat and humiliate them, you are
          helping them work off their bad Karma.

V – NEVER WORRY ABOUT KHARMA
          You can be good in your next incarnation.

VI – POLITICS IS THE HIGHEST FORM OF
AM– — USEMENT
          If you cannot BE one, destroy one.

VII – IT IS NOT POSSIBLE TO EAT TOO MUCH
          Food and a huge stomach are signs of
          prosperity.

VII – THERE ARE 400,000,000 GODS IN HINDUISM
          If you do not like the one assigned to you,
          make your own.

VIII – IT IS NOT POSSIBLE TO TALK TOO MUCH
          See if you can get someone else to do your work
          so you can loiter and chatter.

IX – NEVER EAT MEAT, FOR YOU MAY BE EATING
YOUR GRANDMOTHER
          But, you may sell meat to Muslims and
          Christians. Grandmother will understand.

X – NEVER HELP THOSE IN NEED
          The more they suffer, the more kharma they
          are getting rid of.
          To help them and feed them would cause
          them to enter their next incarnation with
          left over kharma.
          Helping people to suffer pain and hunger
          is the most merciful act of kindness a Hindu
          can perform.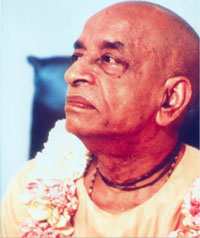 Srila Prabhupada

, at the left, was the founder of
Hari Krishna, and every photo of him
I have seen shows a bored miserable look.
There is no joy in Hinduism, only sensuality and lust.
Ane, much uncertainly !!
"You can't have a present without a past."
        Words by Hindu radical, Acharya Dharmendra

Yes, Acharya, my past defines my present, AND my future. No reincarnation as a mouse or stink bug for me! Don't you worry about stepping on me after I die, I will not be coming back 🙂 I am sorry about your having to work off your Karma by trying to make good Dharma. No amount of rule keeping will cancel the record of your sin– never enough puja. Eating no rice, no salt, no meat, burn incense– what does that have to do with your sin? Nothing! What a fearful way to deal with the past. Why should you wait to see what happens? Put your faith in the finished work of Jesus, and your past will also define a glorious future.