PAKISTAN NAVY-A FOUR DIMENSIONAL FORCE
OPTIONS FOR PAKISTAN NAVY

 

Pakistan and India have unresolved disputes that have taken them to war in the past, future wars cannot be ruled out either. India has always tried to hegemonic her neighbours, some she has annexed. In today's world survival for smaller countries against bigger powers has become a deepening concern; it needs a strong military to safeguard the national interests and integrity. What has been witnessed in Afghanistan, Iraq, Libya and Syria is a clear violation and rape of smaller countries; it's nothing but law of jungle. Pakistan is surrounded by such expansionist and colonizing powers; Pakistanhas no choice but a compulsion to maintain a strong and technologically enhanced military for its survival. 

 

The options of the bigger powers become compulsions for the smaller countries that find themselves in catch 22 situation of between the devil and the deep blue sea. If they do not take remedial measures then they are doomed and going for the compulsion, can hit their economy. Whenever any country acquires some ambitious role, it's always at the cost of smaller and weaker nations of the region. For the past sometime, India is spending on her military muscle beyond its genuine needs. The major shift has come in her naval fleet where it has acquired nuclear submarines to extend its reach and dominance not only over the region but to some extent in the global context. India is joining the Pacific Club of the US, UK, Australia and other NATO members to contain China. Only the time would tell weather India remains a committed member of the pacific club or not but certainly through this club it will acquire what it needs to dominate the region and work on its expansionist agenda – Hindutwa Manifesto. The power dominating the Indian Ocean would dominate the world is an established fact, under this doctrine, over the past some years, Indian navy is in the process of modernization and expansion to dominate Indian Ocean. To this end, its acquisition of aircraft carriers and nuclear submarines from Russia has given her a quantum leap. Now it's a threat to the countries of the region; immediate threat is posed to Pakistan the only country that can stand up to Indian challenges. In the 60s, India had only one aircraft carrier, Vikrant that was an old vintage that could not pose any threat to Pakistan both in 1965 and 1971 wars; instead it was a liability for the Indian navy to hide and protect it from a smaller but far more aggressive Pakistan navy. In these wars, Pakistan Navy was the only navy in the region that had submarine punch. Now with the new developments, Pakistan Navy is fighting within her resources to maintain her edge in the Arabian Sea which she has maintained for decades. After the collapse of Soviet Union, India acquired INS Vikramaditya that is expected to join sometimes this year. Indian navy is set to decommission INS Viraat after the induction of the first domestically built Vikrant class aircraft carrier. Besides acquisition of the aircraft carriers, Indian navy has also acquired nuclear powered submarines; the first of Akula II Class has already been handed over to the Indian Navy to augment its fleet of 14 diesel electric powered submarines (4 Shishumar and 10 Sindhugosh class submarines) besides a dozen midgets known as chariots. 

Nuclear submarines have glaring advantages over conventional diesel electric powered that are as follows: A nuclear submarine is a strategic weapon that gives a navy the unique strategic advantage over its adversary to attain their strategic goals. The nuclear subs are truly independent of the surface for as long as their food and the crew holds out. The nuclear reactor allows it to operate at high speeds for long periods of time. Endurance on the target area increases manifolds. Nuclear Submarines have the reach to hit anywhere in the world. It provides better living conditions for the crew that increases crew performance. The nuclear submarine enhances the second strike capability which makes it a strategic weapon platform. Akula class nuclear submarine is Project 971 Shuka B, designed as follow-up to Victor and Sierra classes to set a new standard in stealth operations and serve as the vanguard of the modern Russian Navy. Some analysts opine that Akula is superior to American Los Angeles class (that was considered to be a world leader) but not being disclosed by the Russians.

Like a shark, this Russian machine is a deadly killer that needs very little reaction time. According to the available information, it attains underwater speed of 35 knots or more and can sit at 500 meters below water. Its weapons configuration is formidable that it can singularly take on multiple targets without being located. It carries a mix of nuclear and conventional weapons for marine warfare. If modified, it can also launch nuclear attack on land based targets. Pakistan Navy for past five decades has been operating technically better French submarines which proved a reliable vessel. Pakistan Navy submarines had edge over Russian conventional submarines with India. French submarines had better metallurgy, machinery and sensors. After the Daphne class French submarines of sixties vintage, Pakistan decided to acquire AGOSTA 70 submarines from France and subsequently went into a TOT program for AGOSTA 90 submarine. Today PN has also developed the MESMA air-independent propulsion system, being fitted on the three AGOSTA 90B submarines. This allows the submarine to remain submerged for three time's longer duration. This is yet another achievement of PN Dockyard to modernize AGOSTA 90 submarines to give them a clear edge over all other conventional submarines of any navy of the world.Pakistan Navy has 7 conventional submarines which are meeting the requirements viz e viz compared to the conventional outfit of Indian submarines. Pakistan Navy is to replace her Agosta-70s better technology to maintain her edge. The choice is between the Chinese, German and French submarines; the acquisition has been delayed for some reasons. Meantime, Indian Navy has been successful in acquiring Russian nuclear Akula class submarines. The speed and endurance of Akula class submarines will outclass the Pakistan Navy submarine service that has a history to make the country proud through herprofessional excellence. 

In the weaponry department, due to the size, Akula in comparison to Agosta, can carry a larger compliment of weaponry with different configurations. That is both a quantitative and qualitative advantage over the conventional submarines. A diesel-electrical submarine has to surface to periscope depth to recharge the batteries using the diesel engine once every 24 hours. A surfaced submarine if detected becomes vulnerable to any attack by surface ships and aircrafts from a far off distance Today PN is operating with state of the art diesel propelled submarines but it's difficult to compare their endurance with nuclear propelled submarines. To overcome this imbalance, Pakistan Navy is compelled to look for better options and go for nuclear submarines to maintain an edge in the region. It would pose some challenges to acquire the same but with better approach; the countries that have been supplying the equipment in the past would be willing to offer favourable deals acceptable to Pakistan. To conclude, in future conflicts, it is very likely that Israel may also conduct covert operations in tandem with India to take out Pakistan's nukes; an opportunity that it has always been looking for in the past. 

—The author is Founding Chairman of OM Centre For Policy Studies; a Virtual Think Tank.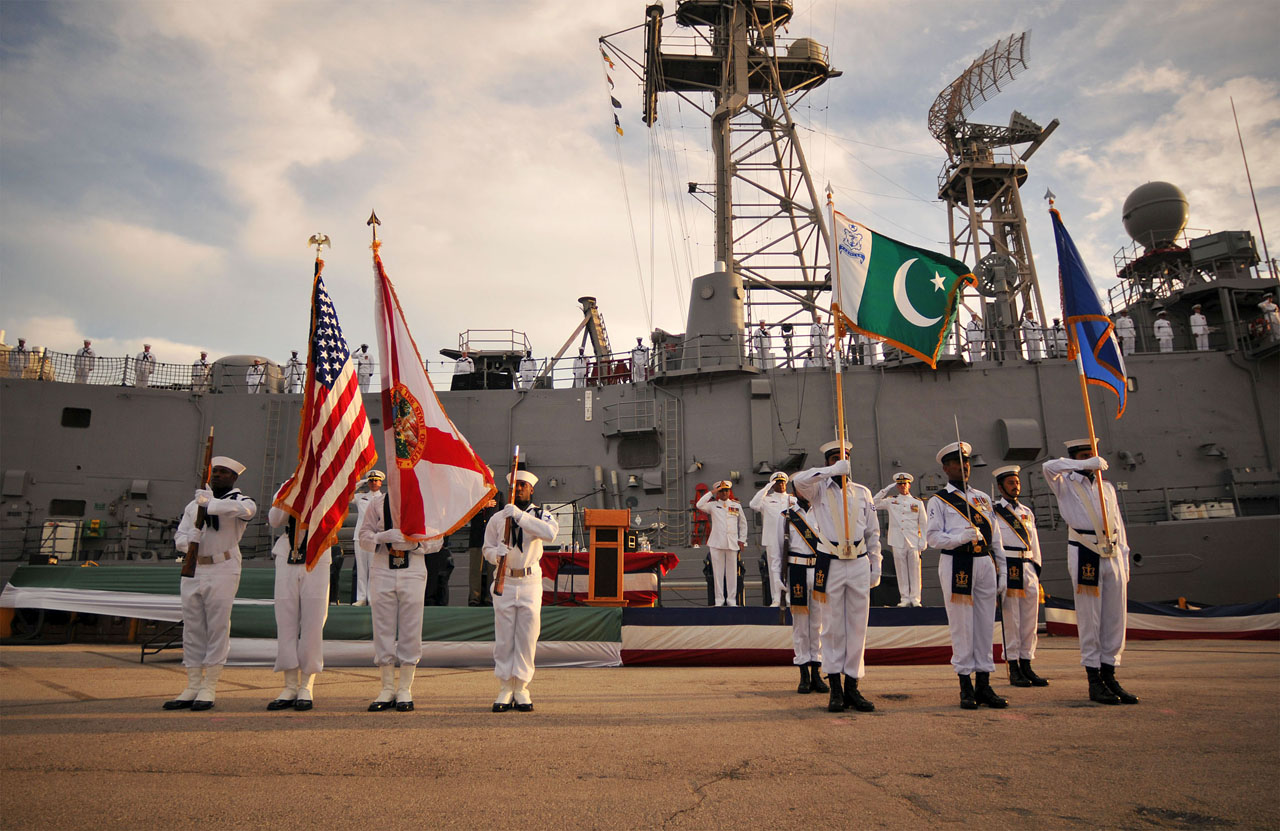 Multi-Dimensional Force, Pakistan Navy
This entry was posted on Tuesday, March 25th, 2014, 12:03 am and is filed under Pakistan-A Nation of Hope. You can follow any responses to this entry through RSS 2.0. Both comments and pings are currently closed.