6 times Pakistani politicians insulted the women they work with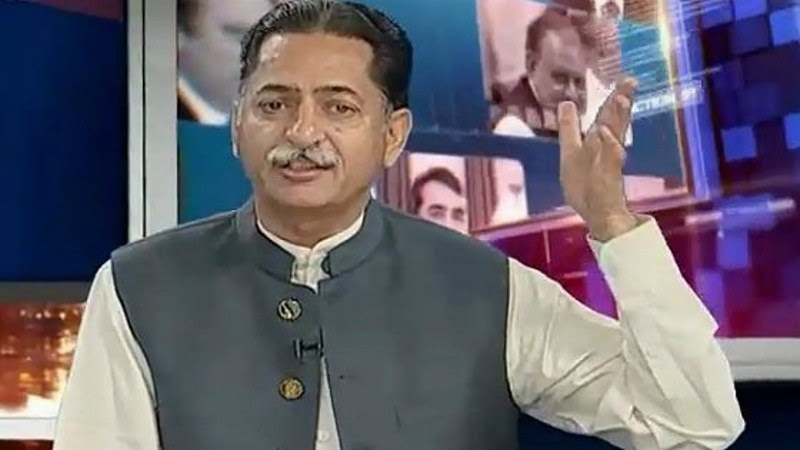 PML-N lawmaker Javed Latif's lewd comments are just the latest instance of sexism in Pakistani politics
Name-calling and fist fights are not uncommon when opposing politicians get together. But yesterday's brawl between PTI lawmaker Murad Saeed and PML-N lawmaker Javed Latif underscored a disturbing trend.
During a press conference after an argument during a National Assembly session, Latif is reported to have passed distasteful remarks about Saeed's sisters in connection with PTI Chairman Imran Khan.
His comments invited censure from all quarters, so much so that his name was soon trending on Twitter.
What ever Javed Latif said cannot and should not be defended – Period !
We just celebrated #womensday yesterday giving lectures on respect/rights and then we have MNAs like Jawed Latif sitting in our Parliament
However, this isn't the first time women were disrespected at National Assembly.
Here's a list.
1) The times Benazir Bhutto was called names for her bright clothes
According to veteran journalist Nusrat Javeed, Sheikh Rasheed was one of the first politicians to be observed passing derogatory remarks to his female peers.
"Benazir Bhutto was wearing a Pakistani green shirt and white shalwar. When she walked in, he quipped 'You look like a veritable parrot', which did not go down well with Ms. Bhutto at all and caused a ruckus in the house," he recalled ina conversation with Dawn.
2) When an inappropriate comment was hurled at Begum Zahid Khaleequzaman
When Begum Zahid Khaleequzaman was minister for railways, Nusrat Javeed recalls her commenting on her workload thus: 'I have so much work that I have one foot in Karachi and the other in Rawalpindi'.
"At this, someone from the backbenches had shouted 'The people of Rahim Yar Khan must be enjoying themselves'."
3) When Khwaja Asif called Begum Mehnaz Rafi a "penguin"
Before he infamously referred to PTI whip Shireen Mazari as a "tractor trolley" (more on that below), Defence Minister Khwaja Asif is reported to have called PML-Q's Begum Mehnaz Rafi a "penguin" in reference to her limp.
4) When Khwaja Asif called Shireen Mazari a 'tractor trolley'
At a National Assembly sessionin June 2016, Khawaja Asif was giving a speech on load shedding in Ramzan when PTI led by MNA Shireen'Mazari protested against some points he made.
Incensed by the interruption, Asif launched a tirade against Mazari, saying "Someone make this tractor trolley keep quiet."
"Make her voice more feminine," he said, according to eyewitnesses. Another lawmaker chimed in from the government benches to say "Keep quiet, aunty."
Talk about not being able to handle criticism.
5) When JUI-F senator Hafiz Hamdullah threatened Marvi Sirmed on TV
JUI-F Senator Hafiz Hamdullah hurled threats at analyst Marvi Sirmed during a TV talk show.
Although the threats were never televised, Sirmed revealed in a Facebook post that Hamdullah had swore at her and threatened to "take off her and her mother's shalwar". He also tried to beat her, she said in her Facebook post:
Although there was widespread condemnation for Hamdullah's attack, he suffered no real consequences for it — a reality that allows for such abuse to occur in the first place.
6) When Sheikh Aftab asked Shireen Mazari if she wanted strip searches at airports
When Shireen Mazari pressed State Minister for Parliamentary Affairs Sheikh Aftab on the security standards at the Islamabad airport, he said, "In airports abroad, they also strip-search you. Is that the international standard she wants," he responded, to peals of approving laughter from the treasury benches.
---
The presence of vocal women with strong opinions tends to unsettle a lot of men, and from the six instances above, it's apparent that our male politicians are no exception. The fact that some are repeat offenders show that their misdemeanours in Parliament are going unchecked. While they are occasionally censured, they suffer no real consequences for it — a reality that allows for such abuse to occur in the first place.
Asma Jahangir, a former president of the Supreme Court Bar Association and noted human rights activist, expressed similar views. She termed the Javed Latif episode a "shameful" one and called for appropriate action against the lawmakers concerned. "Once they are penalised, no one will dare talk in that tone," she said while talking to a private television channel.
"It's shameful that they don't know how to talk to a woman. Are they the elected representatives of people attending an assembly session or some g