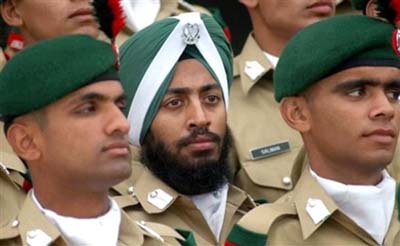 Sunday, 08 June 2008 – In the picturesque surroundings of Kakul, Abbottabad, in NWFP, stands a quaint colonial building housing the prestigious Pakistan Military Academy (PMA).
I'm consequently surprised to hear about the scene the PMA witnessed two years ago"as the sound of Azaan echoed in the PMA, a cadet in his room rolled out the jainamaz facing the west. His mate, however, turned to his own sacred corner, where symbols of Sikh religion were gathered.
Their prayers over, they returned to their chores, oblivious of the history they had created in the academy. This is Pakistan, the land where rampant strives to squash the remaining semblances of religious tolerance.
It wasn't that the PMA proscribed other forms of worship; there simply hadn't been a Sikh cadet till then.
Narrating this stirring story is Hercharin Singh, Pakistan's first Sikh officer and a symbol of the changing face of its army. Now 23, dressed in a smart khaki uniform and sporting a solitary star on his shoulder, Lieutenant Singh cannot help suppress the sense of pride he feels whenever he passes his juniors and the response is a smart salute to him!
He and I are sitting in the posh Officers Mess of Malir cantonment, Karachi. Providing us company are Capt Danish in his Ranger's uniform and Capt Aneel Kumar, both Hindu doctors of the Combined Military Hospital. Capt Danish is considered the first Hindu officer to have been drafted into the Pakistan army.
They display verve as we talk, and listen in rapt attention to the experiences of each other in the army. Says Singh about his PMA days, "At times I used to wonder what I had landed myself into. I stood out like a sore thumb and many of the cadets had never seen a Sikh in flesh. I had a tough time because of my appearance. Others — Hindu and Christian — at least look like 'ordinary' cadets."
For nearly two years, We had been relentlessly seeking access to Singh and the two Hindu officers. It took months of persistent lobbying by ISPR's Director-General Gen Athar Abbas before the army agreed to allow an interview with the three officers. As Col Atiq coordinated to fly to Karachi last week, new obstacles kept surfacing. Lt Col Idrees Malik in Karachi had to implore his superiors to grant permission to Singh to miss a day's class in the course he's taking, and bring out Capt Danish from interior Sindh.
At the officers' mess, amidst smiles and show of palpable pride, Singh begins his story from the day his romance with the Pakistan army was sparked. Like all poignant stories, it was ignited with a chance glimpse and an irrepressible tug of the heartstrings. Nearly three years ago, he and his friends decided to apply to the prestigious National College of Arts (NCA) in Lahore. On their way they passed an army recruitment centre. Something was felt, perhaps. "But no-one had any idea of a Sikh being allowed entry into Pakistan's military institutions," Singh recalls.
Singh was granted admission to the NCA. But he decided to visit the recruitment centre and made inquiries. He was told the law didn't proscribe Sikhs from the army. Singh promptly submitted an application, arousing curiosity at the centre about the "Sikh who wants to join the army." He was selected, in the process grabbing headlines countrywide. But his family was opposed to his joining the army. The elders wanted him to head the business of his father who had died years ago. And Singh's mother believed a career in the army would shame the family. Shame? "All our lives our community had been ridiculed and humiliated. Especially in the electronic media Sikhs were portrayed as drunks, womanizers and villains. My mother said that I wouldn't be respected and this would bring shame to the family."
At the PMA, the callow, sensitive Sardarji was baffled to hear some ask him to convert to Islam. "I wondered, what kind of people are these who are not happy with the way I am and offered to convert me. I didn't mind jokes about Sikhs because these are so common," he says. At Kakul, sensing the irritating inquisitiveness of other cadets, he decided to ensure his religion or culture was not compromised. After all, he says, "My sergeant told me that I was free to follow my religion and that everything would be done to make me comfortable."
It was quite clear that the strict and strenuous rigors of the military had in no way broken the spirit and over confidence of Sardarji or his two Hindu colleagues. The Pakistan army has really changed in more than one ways. They are now producing officers who are literally wearing their religion on their sleeves with pride, and the self-confidence of speaking to the media for hours is a change from interactions that this writer has had with young officers over the decades.
Courtesy: http://www.sikhnet.com/daily-news/sikh-and-hindu-officers-a-new-era-pakistan-army