LETTER TO EDITOR
July 18th, 2017
2/3rd Majority
During the ongoing PANAMA hearings by the SC,  many a stalwart of the PML (N) leadership has hinted at going to the Awami Court who they claim had returned MNS with 2/3 majority.  Just to be sure, I dug up some of the old newspapers and found the following:
Party
Total votes bagged (

May 12, 1 pm

)
PML-N
9,781,703
PTI
3,633,060
PPP
3,381,223
MQM
2,108,360
PML-Q
834,572
PML-F
610,906
JUI-F
278,636
JI
91,668
The total number of the registered voters for the 2013 election was  86,194,802
Thus PML (N) polled  9,781,703  / 86,194,802  X 100 = 11.35 per cent  which is not even simple 51% majority what to talk of 2/3rd majority. It is as simple as that out of 86,194,802 registered voters a very hefty number of  76,413,099 voters did not vote for it.
Do they have any moral justification of going to them for the final decision?
Col. Riaz Jafri (Retd)
30 Westridge 1
Rawalpindi 46000
Pakistan
E.mail: jafri@rifiela.com
Mazhar Iqbal a senior journalist of Islamabad forced Danyal Aziz to apologise from journalists for saying "the way Imran Khan is getting media coverage, he seems to be Jawai (brother-in-law, said as an insult) of journalists.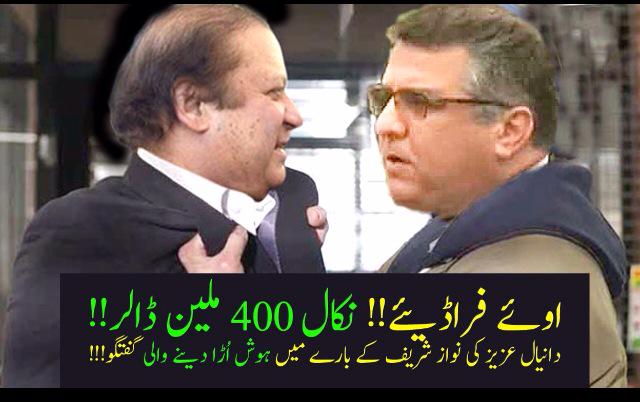 Mazhar Iqbal stood before Danyal Aziz during his press conference at PID Islamabad and asked him to apologise from journalists while during this course of arguments mediamen present there raised shame, shame slogans in presence of Danyal Aziz.
"I apologize from all of you, if my words have hurt you and I am writing to apologize in writing too", said Danyal Aziz.
Well done Mazhar Iqbal, you have upheld the image of media and journalists.
J Choudhry