Pakistan and US are growing apart due to misguided propaganda of AIPAC, a Jewish Lobby. It can be stopped,but, US people are helpless in front of this powerful lobby. Due to its anti-Muslim propaganda, US is fast losing friends in Islamic world. US friend in India,famouse for double crossing, continues to backstab US.Here is a book cover which illustrates our point.
 BOOK WRITTEN WITH LOVE ABOUT CIA BY AN INDIAN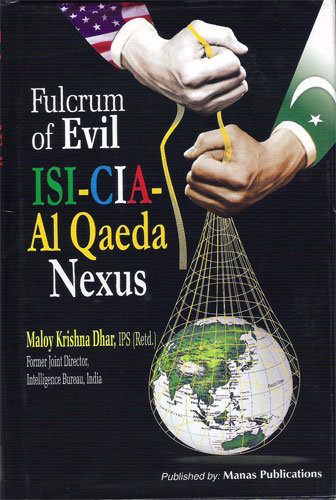 LETTER OF AYESHA V.
After the downfall of the USSR, the US has engaged upon itself, on a contradictory basis, the mission of recreate the world in its own image but the representation of hegemonic disruption creates sub-national actors such as Taliban an imperative role in the global power relationships between great powers. It is not Taliban's material power or its ability to utilize force that presents its greatest impact but their capability to use power to press forward an ideology that gives its position in great power politics that challenge the US to dis-engage in global or hegemonic war that leads to the dominance of one state, which then establishes an international order and act as "world –police". In Afghanistan, finally the hegemonic scheme started to weaken, a challenger appears in the form of ISI and Pakistan Army, the recent action of Pakistan Army in punishing the NATO and Afghan Army for violating Pakistan territory opposite Parachinar, which killed members of NATO troops was noteworthy, now the cycle begins yet again with a hegemonic competition the hegemonic order weakens. As the world stand witness to scheming propagation of an ideology that the hegemonic ideology spread by the US; the so called war on terror. This only inspired the emergence of more traditional insurgencies; and the seizure of power in nation-states the manipulation of the ungovernable failed states to develop sanctuaries, the sponsorship of radical regimes already in power, and terrorist attacks against the US and its allies sending a unswerving coercive message: "back off!  From this part of the world which we considered OURS! We don't need you! We don't want you! Get the heck out of my country you dummy!