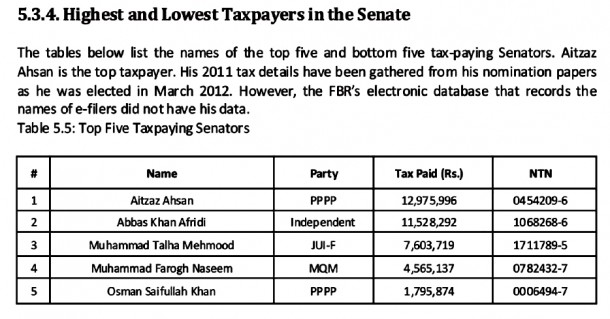 According to a report, Pakistan's two-third lawmakers don't pay tax.

Islamabad, Dec 12/ Nationalturk – The first-ever report on the taxes of Pakistan parliament members was released on Wednesday, which shows that more than two thirds of country's  lawmakers paid no tax last year.
According to the report, of the 104 Senators, only 49 paid income tax in 2011. They included 11 newly elected senators, who did not file tax returns, though they mentioned otherwise in their nomination papers.
Aitzaz Ahsan is top taxpayer among the senators. He paid Rs.12.97 million. Next four Senators in this list are Abbas Khan Afridi (Rs. 11.52 million), Talha Mehmood (Rs. 7.60 million), Dr. Farogh Naseem (Rs. 4.56 million) and Osman Saifullah (Rs. 1.79 million).
The former minister and Senator Mushahid Hussain Sayed is conspicuous by leading the list of the five lowest taxpaying Senators. "The data shows that he paid Rs. 82 as income tax. The four Senators next to him from the bottom are Karim Ahmad Khawaja (Rs. 3,636), Haji Saifullah Bangash (Rs.4,063), Naseema Ehsan (Rs. 4,280) and Malik Salahuddin Dogar (Rs. 8, 659)".
The party-wise break-up indicates that only 17 ruling PPP Senators out of 44, six PML-N senators out of 14, four MQM senators out of seven, two each of ANP and PML out of 12 and five respectively, and one each of BNP-A, JUI-F, and PML-F filed tax returns in 2011.
Pakistan's National Assembly has 341 sitting members; one seat is vacant. Of them, only 90 members have filed their tax returns. There were 16 lawmakers, whose requisite details for checking the income tax filing status were not available. Among the rest, Jehangir Khan Tareen (who was lawmaker in September 2011 when returns were filed) is top taxpayer (Rs. 17.05 million). Those next to him in descending order are Hamid Yar Hiraj (Rs. 2.44 million), Hamza Shehbaz Sharif (Rs. 2.31 million), Attiya Inayatullah (Rs.1.59 million) and Humayun Saifullah (Rs. 1.44 million). From the other side, Sheikh Rohail Asghar (Rs.16, 893) is at the bottom, surpassed by Ghulam Murtaza Jatoi (Rs. 21, 993), Asim Nazir (Rs. 28, 923) Engineer Amir Muqam (Rs. 29, 324) and Rana Afzal Hussain (Rs. 39, 713).
Pakistan's President and Interior Minister also did not file tax returns in 2011
The report, which marks the launch of the Centre for Investigative Reporting in Pakistan (CIRP), based its findings on information from the FBR and lawmakers themselves. It urges politicians to disclose their tax returns voluntarily in future.
According to Cheema's findings, President Asif Ali Zardari did not file a tax return in 2011 and neither did 34 of the 55 cabinet members including Interior Minister Rehman Malik.
The Pakistan cabinet comprises Prime Minister and his 55 cabinet members. However, only 20 ministers filed their tax returns. Of 28 parliamentary secretaries, only seven filed tax returns. Of are 55 MNAs holding key positions in the National Assembly and its Standing Committees; only 15 filed tax returns.