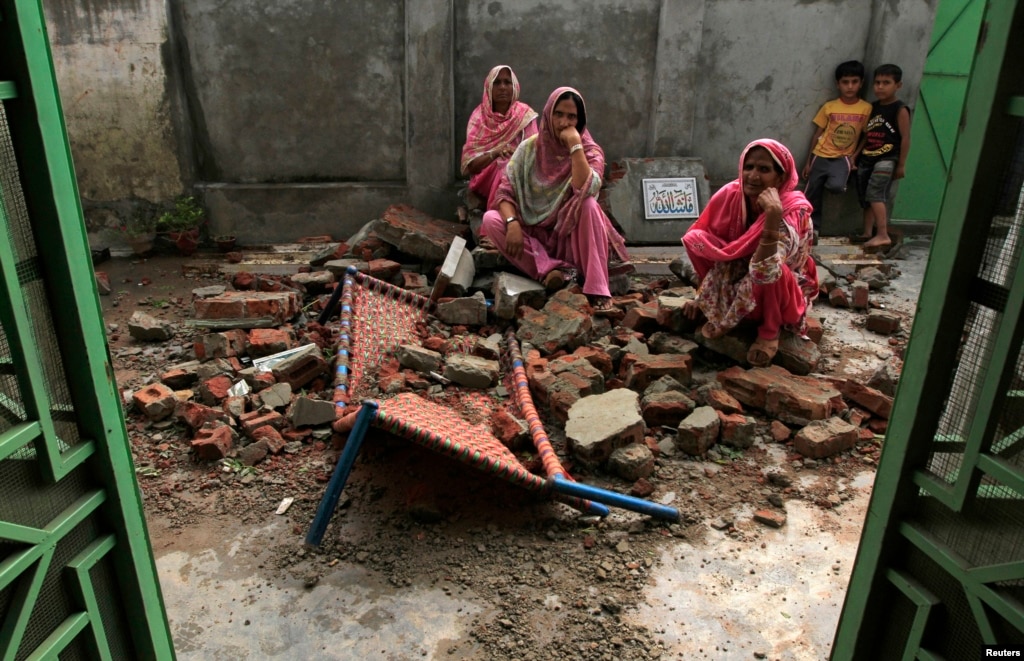 Why India Continues Cross-border Shelling?
By Sajjad Shaukat
Since October 6, this year, India accelerated cross-border shelling along the Line of Control (LoC) and Working Boundary (WB) and killed several innocent persons including their animals inside Pakistan. It compelled tens thousands of the residents of the villages to migrate to safe areas, with their livestock and other belongings.
In this regard, spokesman of the Inter-Services Public Relations (ISPR), Maj-General Asim Bajwa said that Pakistan Rangers and troops "befittingly" responded to "unprovoked firing" by Indian Border Security Forces (BSF) and military troops. He also clarified that Pakistan's Armed Forces are fully prepared to meet any aggression.
Regarding these constant violations, Pakistan government has lodged a strong protest, and also raised the issue with the UN Military Observers Group in India and Pakistan, asking for a visit of the observers to the affected areas.
Meanwhile, in India where Pakistan is accused of starting the skirmishes, leader of the fundamentalist party BJP and Prime Minister of India, Narendra Modi is reported to have given a free hand to the Indian forces to go on aggressively with the violations. While, Pakistan's Prime Minister Nawaz Shariff convened a meeting of the National Security Commit­te on Oct 10, this year, and discussed the recent ceasefire violations by India at the LoC and WB.
It is notable that by acting upon a preplanned scheme, Indian soldiers crossed over the LoC in Kashmir on January 6, 2013 and attacked a Pakistani check post, killing one Pakistani soldier and injuring many troops. Contrarily, on December 24, 2013, New Delhi agreed for the meeting of Directors-General Military Operations (DGMOs) of both the countries, who met in Pakistan, and discussed specific measures strengthening the bilateral ceasefire mechanism across the LoC.
While, Islamabad and India had on November 25, 2003, agreed to observe ceasefire along all areas of WB, LoC and the Actual Ground Position Line in Jammu and Kashmir. However, Pakistan military indicated that Indian hostility has gradually increased since 2010 making lives of civil population living in closer vicinity of the LoC and WB difficult. Indian troops committed 86 ceasefire violations in 2011, 230 in 2012 and 414 in 2013. But, Indians have again resorted to unprovoked firing for about 224 times on both LoC and WB and killed several people on the Pakistani side this year.
In this context, military officials further elaborated that Indian perennial escalation across the LoC and WB is according to a deliberate plan. So question arises as to why India continues cross-border shelling inside Pakistan.
In fact, by promoting Hindu chauvinism on the basis of anti-Muslim and anti-Pakistan slogans, extremist party, BJP won a landslide victory in the India elections 2014 by defeating the Congress. Now, BJP-led Prime Minister Modi has been implementing its party's agenda against Pakistan. In this context, recent upsurge in skirmishes across the LoC and WB is also linked to upcoming elections in Indian occupied Kashmir, as BJP again wants to make Pakistan a scapegoat. Therefore, the border violations, accompanying hostile statements by Indian leadership are aimed at motivating support base before the elections, and even the expected delay in polls in Kashmir would provide more time to the Indian side to hype up sentiments at the cost of Pakistan. The BJP government is looking at winning a majority in the Kashmir assembly so that it could fulfill its manifesto pledge of revoking the special status, given to Kashmir under Indian constitution's Article 370, and to strengthen its measures to annex the area.
As regards Indian covert aims, BJP rulers are trying to divert attention of international community from the Kashmir dispute, while, Kashmiri leaders and Pakistan have been keeping this issue in limelight.
In this connection, terming the support and advocacy of the right to self determination of the people of Jammu and Kashmi (J&K), Prime Minister Nawaz Sharif, while addressing 69th session of the United Nations General Assembly (UNGA), stressed for settlement of the Kashmir issue, and offered Pakistan's readiness to endeavor for the same through negotiations. He also reminded the international community of its pledge for holding "plebiscite" in the Indian-held Kashmir, and resolves the issue in accordance with UN Charter. The speech generated appreciations from the political circles of Pakistan and Kashmir as well. It is also acknowledged that the speech is true reflection of sentiments of the people of Pakistan, who believe that peace and prosperity in south Asia is inter- linked with solution of core dispute of Kashmir between Pakistan and India.
Islamabad's successful attempt at the UNGA seems to have irked Indian political, diplomatic and journalist circles. Under the growing frustration, a notoriously controversial journalist affiliated with the Indian NDTV namely Barkha Dutt engaged Pakistan's prime minister's special advisor on Foreign Affairs Sartaj Aziz, and managed to create a controversy through aggressive posture to make him concede that Pakistani High Commissioner Abdul Basit's meeting with the Kashmiri leadership in New Delhi was ill-timed, and affected secretary level engagements with Pakistan. No doubt, Barkha-Aziz episode has been projected, because under the pretext, India cancelled secretary level talks with Islamabad.   
Moreover, Indian media created an impression that Prime Minister Nawaz Sharif by highlighting Kashmir issue made an effort to improve relations with military establishment in the backdrop of the protesters of the sit-ins led by PTI and PAT. It also generated controversy of gray relations between political and military echelons of Pakistan. By increasing cross-border shelling, New Delhi also wants to create pressure on Islamabad and the Armed Forces in wake of present political turmoil—and military operation Zarb-e-Azb which successfully continues against terrorists in North Waziristan Agency.
It is of particular attention that BJP leader Dr. Subramaniam Swami stated on July 12, 2014 that India needed only two years to defeat Pakistan militarily, and the only solution of Kashmir was war, as "there is no peaceful, democratic solution. Responding to the withdrawal of the US-led NATO forces from Afghanistan, he remarked, "Americans will hand over Afghanistan to Taliban and go…India should send at least 200,000 troops to Afghanistan."
In these terms, Indian hawks think that in the aftermath of the withdrawal of NATO, they will keep their anti-Pakistan network in Afghanistan by harming the genuine interests of Pakistan which shares geographical, cultural and religious bonds with the former, and is determined to bring peace and stability there.
Now, as part of its blame game, India has intensified unprovoked firing at the LoC in Kashmir and WB in Sialkot to delay the Pak-India peace process, without caring for latter's nuclear weapons.
Undoubtedly, every Indian government due to international pressure found it easy to make false pledges that it was willing to engage in peace process to resolve all issues like Siachen, Sir Creek, Wullar Barrage, Water and especially main dispute of Kashmir with Islamabad. But, New Delhi earnestly endeavored to find excuses and pretexts to cancel peace talks, while shifting the blame to Pakistan. For example, in 2002, under the pretension of terrorist attack on the Indian parliament, India postponed the dialogue process. Again, in 2008, India cancelled the 'composite dialogue' on the pretext of Mumbai terror attacks.
Particularly, on May 27, 2014 Prime Minister Modi's meeting with Prime Minister Sharif in the oath-taking ceremony proved faultless, because Modi raised baseless issues of terrorism as pre-conditions to advance the Pak-Indian dialogue. He said that slow pace of trial against the terrorists of the Mumbai 26/11 terror case; being held in Pakistan is main hurdle.
But, Indian prime minister ignored the fact that on July 19, 2013 the Indian former home ministry and ex-investigating officer Satish Verma disclosed that terror-attacks in Mumbai in November 26, 2008 and assault on Indian Parliament in January 12, 2001 were carried out by the Indian government to strengthen anti-terrorism laws.
Notably, in the recent past, United Nations Military Observer Group India and Pakistan in New Delhi was asked to vacate official accommodation, claiming that its role had become irrelevant.
It is also mentionable that Pakistani business community is agitated by the High handedness of Indian authorities in India, whenever they participate in trade exhibitions. As per visa protocols of year 2012, both India and Pakistan are bound to give business visa "Exemption from Police Reporting." Recently, Pakistani delegation members were fined $ 40 per participant for missing Police reporting during trade exhibition (Alishan Pakistan), held at New Delhi from 11-14 September 2014. Besides this, no relaxation is being granted by Indian authorities in issuance of visa to Pakistani businessmen. Element of non-cooperation and aggressiveness towards Pakistan is significant in conduct of Indian authorities after the arrival of Modi regime in power.
Nonetheless, we can undoubtedly conclude that India continues cross-border shelling inside Pakistan so as to obtain multiple designs against the former.
Sajjad Shaukat writes on international affairs and is author of the book: US vs Islamic Militants, Invisible Balance of Power: Dangerous Shift in International Relations
Email: sajjad_logic@yahoo.com