Incompetence is the Hallmark of the Corrupt Nawaz Sharif PML-N Government

Of New Islamabad Airport
Brig Rashid Wali Janjua
First visit to Islamabad Airport. Today was my first visit to the new airport as I was travelling to Karachi via PK 309. I started from Chaklala Scheme III at 16.45 hrs and reached the airport exactly after one hour of travelling on a Sunday when the traffic on Peshawar road and GT road was quite light. As we approached the airport the sight of wide approach road was reassuring. Suddenly I found a big queue of vehicles at two checkpoints which created a jam. So despite new facilities the ubiquitous traffic jam issue remained as it was on old Benazir Bhutto Airport. The new building of the airport presented a grand and spruced up look. Here at least was an international standard airport at Islamabad. As I entered the airport I beheld the red granite floor. While standing I closely examined and found chipped off edges of granite slabs, which was quite surprising as it indicated a poor workmanship. Apparently in hurry someone had compromised on workmanship. The queue for boarding pass was a horror story however. Quetta bound passengers were milling around all counters raising noises and entering in heated debate with the PIA booking staff. A plane bound for Quetta was diverted elsewhere and the Quetta flight now was at

11 pm.

There was shortage of booking staff and the overworked and harried booking staff battled frequent internet breakdowns and communication problems. A seasoned staff member confided in me that due to sudden inauguration many services could not be fully developed a d especially communication equipment shortage like walkie-talkies etc was hurting the smooth operations. When I reached the booking gentleman he kept fidgeting with my ticket and his computer for good 15 minutes. After that he told me that since my ticket was economy premium and that the plane had been changed there was no premium economy and that I should contact my booking agent to upgrade my ticket to business class. The News was frustrating yet I went to another staff member and explained the problem. My travel agent meanwhile told me that since PIA ha changed the airplane to a 777 and failed to inform we needed to upgrade the ticket. I acquiesced. While this was being done suddenly the ticketing system went down with internet issues. Meanwhile I heard loud shouts by Quetta passengers who had started getting violent due to frustration. There were few counters and all overloaded with frequent computer breakdowns. Complete mayhem with harried looking booking staff and clueless coordination gentlemen presented an anachronistic scene for a newly inaugurated airport. Now when my ticketing issue was sorted out I was directed to finance desk to pay some amount. I moved around but found the finance guys absent! If I thought this was hilarious more was yet to come. The finance guy was frantically called on internet call bit the signals went down and no contact. Flight departure time meanwhile was approaching close and I was getting restless. After a tense wait of 15 minutes the cash guy sauntered in and I explained my requirement. He made few calls to get the right information as he was not aware of the ticket change dues payment procedure. After wasting a lot of time he finally informed me that there were no extra charges and that I could go. Relieved finally I dashed for Gate B1 to be precise for my inaugural flight from Islamabad Airport. After a lot of escalator movements we reached at the gate expecting to be led to the pedestrian bridge. No such luck however and this takes the cake. At the gate a forlorn yet spirited ASF guy informed us that we would have to wait for a bus to take us to the plane. I asked,"Where is the pedestrian bridge?" He replied matter of factly,"Sir, the pedestrian gate could not be operated as the Civil Aviation guy has gone away with the Key". The passengers despite their discomfiture burst into guffaws. At least there was some redeeming feature in this disorder. Our flight took off 3xactly an hour late, nothing wrong with that since by PIA standards that was perfectly normal.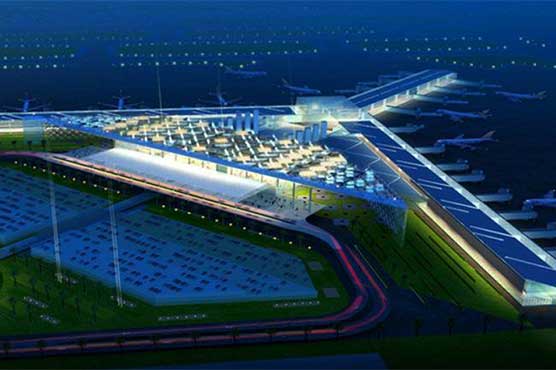 Amid all this turmoil on the airport especially on the booking counters, there was one gentleman with the name of Harish Kumar and two ladies Maria and Bushra on the counters who were a picture of equanimity and handled all irate passengers with professional courtesy and a cool head. One felt for those nice souls caught up in an impossible situation. The overall impression was such that as if someone had deliberately conspired to create confusion on the airport.
I appeal to all concerned that if due to electoral expediency the premature inauguration was necessary all facilities and requisite should have been provided at the new airport. My humble suggestion is to suspend operations there for few months to get the complete staff and facilities operative and the flight operations are conducted from the old airport till then.