THEY PLAN & ALLAH PLANS, ALLAH IS BEST OF THE PLANNERS.ALLAH'S PLAN WORKS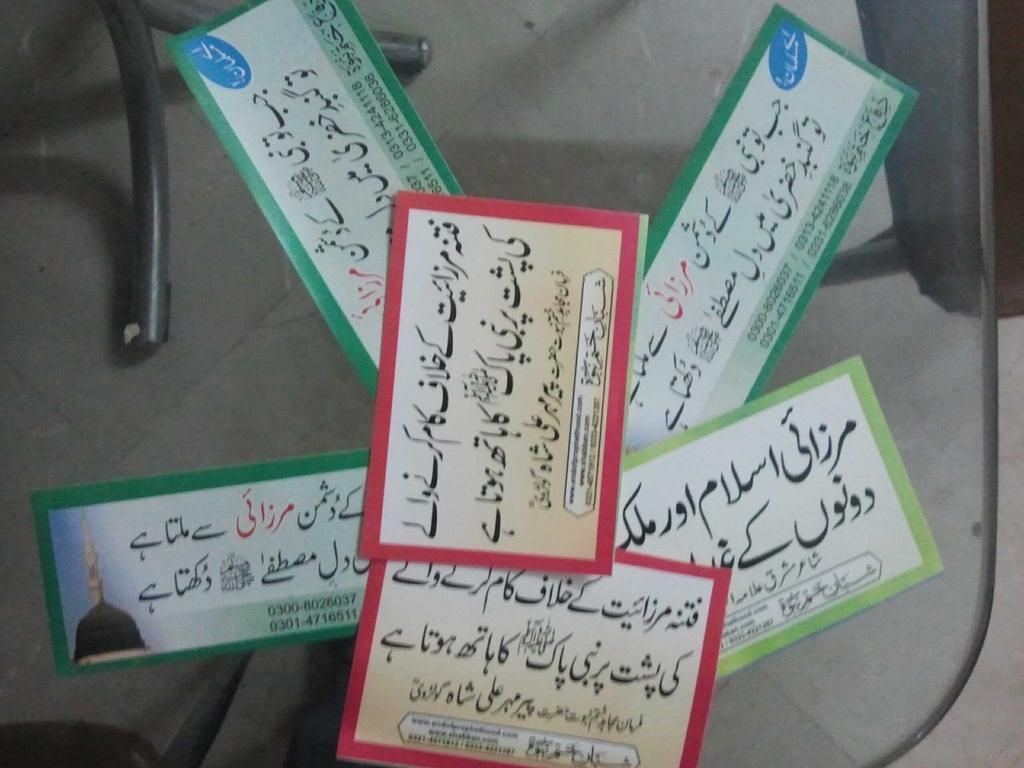 Qadiani temple in Haifa,Israel
Khaled Ahmed
Khaled Ahmed was born in 1943 in Jallandhar during the siege of Stalingrad. He has been an opinion writer based in Pakistan for the past 40 years. Over his decades of experience, he has worked for The Pakistan Times, The Nation, The Frontier Post, The Friday Times andThe Daily Times, three of which have been closed down either permanently or temporarily. He is now consulting editor at Newsweek Pakistan, based in Lahore. Ahmed graduated from Government College Lahore during the 1965 war with India with an MA (Honours) on the roll of honour, along with a diploma in German from Punjab University. In 1970, he received a diploma in Russian (Interpretation) from Moscow State University. In 2006, he wrote the book, Sectarian War: Sunni-Shia Conflict in Pakistan at the Woodrow Wilson Centre in Washington DC.He writes for Ahmediyya Times and active in Ahmediyya Jamaat Activities.
LOOSE TONGUE BADZAAT KASHMIRI ZIAUDDIN BUTT, GEO BLACK OPS & JEW CARLOTTA GALL PROMOTES WAR BETWEEN US AND PAKISTAN-EGGED ON BY INDIA
As GEO Demonizes ISI,its partner in Crime
Carlotta Gall, a Jew, Beating War Drums with Indians
&
QADIANI KHALED AHMED, A CONTRIBUTING EDITOR OF NEWSWEEK PAKISTAN
Indian Newspaper Promotes her lies in a lead article below
THIS IS THE BALDERDASH DISHED OUT BY QADIANI KHALED AHMED
KHALED AHMED ALSO WRITES FOR AHMEDIYYA TIMES, THE LEAD NEWSPAPER OF QADIANIS. HIS ARTICLE FROM QADIANI NEWSPAPER IS REPRODUCED BELOW:
Carlotta Gall's book will be met by the same denialism that has gripped Pakistan for many years.
Pakistan, where over 80 per cent of people hate America, is greatly upset over the yet-to-be-published book by reporter Carlotta Gall — a woman and a Jew — who has written in The New York Times that Pakistan was keeping Osama bin Laden in a safehouse in Abbottabad; and that it actually faked shock followed by populist rage at "discovering" him there after America's dastardly attack to kill him on Pakistani soil.
We say her lies are myriad, typical of a Jewish hater of Pakistan and Islam. She says "the madrasas in Quetta are a cover, a camouflage. Behind the curtain, hidden in the shadows, lurks the ISI. The Pakistani government, under President Pervez Musharraf and his intelligence chief, Lt Gen Ashfaq Parvez Kayani, was maintaining and protecting the Taliban, both to control the many groups of militants now lodged in the country and to use them as a proxy force to gain leverage over and eventually dominate Afghanistan."
She goes on to indict Pakistan further as an abettor of terrorism through proxy warriors it pretends not to know and claims to be helpless to curb. It pretends to "apparently" cooperate with America but covertly trains militants through its dreaded ISI to go to Afghanistan and kill Americans. She says Americans knew what its great ally was doing but refused to face up to it "for fear of setting off a greater confrontation with a powerful Muslim nation".
She quotes a former chief of the ISI, Ziauddin Butt — a simple soldier, if you run into him at the Lahore Gymkhana, you will see him stuffing the heads of rich shopkeepers with stories of great derring-do against enemy America — as saying that "he thought Musharraf had arranged to hide bin Laden in Abbottabad".
Of course, Butt has quickly denied what he said to Gall but he had already told a lot of foreign reporters about how Musharraf and the ISI's Brigadier Ijaz Shah and ISI chief Shuja Pasha had actually placed him in Abbottabad.
Then Gall turns to the 2007 Lal Masjid affair in Islamabad when Musharraf ordered the attack on this al-Qaeda-linked mosque — and thus dug his grave by daring to go against the hardcore establishment within the army and represented in the ISI. She quotes a cabinet minister on the affair: "One hundred per cent they knew what was happening. The ISI allowed the militants to do what they wanted out 
of sympathy. The state is not as incompetent as people believe."

More dangerously, she states: "In 2007, a former senior intelligence official who worked on tracking members of al-Qaeda after September 11 told me that while one part of the ISI was engaged in hunting down militants, another part continued to work with them." We say officers who don't have the stomach to play double often spill dangerous beans to foreign journalists. If it weren't for these cowards, Pakistan would be floating on the mists of a utopia at whose gates America and India — the latter with its hands clasped together in supplication — would beg entry.

We say Butt is a military genius because he was the first head of the army's Strategic Plans Division, which controls nuclear weapons, and that Nawaz Sharif made him director general of the ISI in 1997, and promoted him to army chief in 1999. (Whisper: Sharif was overthrown by the army after this.)

Pakistani journalist Amir Mir, who is not yet convinced that terrorism in Pakistan is carried out by America and India working in tandem, has revealed more juice: "It was in December 2011 that General Ziauddin Butt was quoted by the Western media for the first time saying that Osama was kept in an Intelligence Bureau safehouse in Abbottabad and Musharraf knew about it. He was quoted in an article on the well-known Jamestown Foundation website, saying: 'General Ziauddin Butt said Osama bin Laden was kept in Abbottabad under the instructions of IB Director Brigadier Ijaz Shah'."

Ijaz Shah is the same brave man who clairvoyant Benazir Bhutto predicted would be instrumental in killing her. Shah was also "responsible" for hiding Omar Saeed Sheikh, who had killed American journalist Daniel Pearl. General Butt stated that "former prime minister Nawaz Sharif had set up a 90-man commando team to track and kill Osama bin Laden but it was disbanded after he was ousted in a military coup."

The American diplomats in Islamabad were sending a lot of dastardly information back home. WikiLeaks claimed, while citing secret documents seized from the Abbottabad compound of bin Laden, that the al-Qaeda chief was in routine contact with up to 12 ISI officials. We say, all lies! As the chief priest of Makka said, it is an international conspiracy to make Muslims fight each other.

Late prime minister Benazir Bhutto, in her book Reconciliation, mistakenly linked the deep state with terrorism and feared she would be eliminated through this dark nexus. According to her, Pakistan's establishment comprised the army, the intelligence agencies, religious leaders piously building political muscle through proxy warriors and those brainwashed with textbook nationalism favouring the Islamic state.
She was attacked in Karachi by one of the three assassination squads she had listed in her book. No special security was provided to her. Her book referred to Saifullah Akhtar, a specially favoured jihadi leader in Pakistan who, together with General Zaheerul Islam Abbasi, nearly toppled the Bhutto government in 1995. But all these "facts" are in abeyance, so to 

speak, while the case of Bhutto's assassination is being investigated. And India must have arranged the murder of the man who was investigating it, senior police officer Chaudhry Zulfiqar Ali, who was gunned down in a street in Islamabad in broad daylight.

Assistant secretary general at the United Nations, Chilean diplomat Heraldo Munoz, who headed a UN inquiry commission on Bhutto's assassination, writes: "Akhtar had joined hands with Major General Zaheerul Islam Abbasi, a former intelligence officer, not only in an attempted coup against Benazir Bhutto in 1995 but also in an attempt to remove the army leadership. After Akhtar spent five months in jail, he was released from detention. Years later, arrested in the United Arab Emirates for plotting to murder Musharraf, he was handed over to Pakistan; but after being held in jail for a couple of years, he was quietly released by the government after the Supreme Court inquired as to his whereabouts."
Who did Bhutto name as her potential killers in her book? In a letter sent to then president Musharraf, she named former ISI director general Hamid Gul, the Intelligence Bureau's retired chief, Brigadier Ijaz Shah, and the then-chief minister of Punjab, Pervaiz Elahi, plus former Sindh chief minister Arbab Ghulam Rahim. Surely, she was brainwashed by the enemies, you know who, of Pakistan; therefore the letter was ignored.

Major General Zaheerul Islam Abbasi, who attempted a coup in 1995, was a soldier of Islam. Now dead, as Brigadier Abbasi, he was once Pakistan's military attaché in New Delhi and believed that "India will soon be destroyed because of its obscene movies," as he told me once when I was visiting Delhi. He got thrashed by RAW in a sting operation and was repatriated, only to be promoted and sent to Gilgit to challenge India on the Siachen. As Allah willed it, he got a large number of troops killed by mounting an unauthorised operation.

We hold that obscene movies will be the end of India. Good riddance. Dastardly America is dying anyway.
KHALED AHMED IS A QADIANI: HE LIVES IN LAHORE AND BY REMOTE DEMONIZES PAKISTAN: The writer is consulting editor, 'Newsweek Pakistan'
HERE IS A TYPE OF ANTI-MUSLIM PROPAGANDA QADIANI KHALED AHMED DISHES OUT

"Muslim world: A civilisation of narcissists"( TO KHALED AHMED MUSLIMS ARE NARCISSISTS)
If a Muslim terrorist kills another Muslim, the unthinking verdict is that the killer couldn't be a Muslim or he wouldn't have done it. Yet the bitter truth is that despite all their aggressive strutting, Muslims are busy killing Muslims all over the world.
Ahmadiyya Times | News Watch | 
Source/Credit: The Express Tribune
By Khaled Ahmed | March 26, 2011
The writer is a director at the South Asia Free Media Association, Lahore khaled.ahmed@tribune.com.pk
Muslims seem to be blind to non-Muslim emotions; they are civilisationally inward-looking, but only go into denial when taxed with blame from the outside. If Muslims kill non-Muslims, they seem strangely unconcerned; when Muslims kill Muslims, as in Sudan, they turn their eyes away. It is only when non-Muslims kill Muslims, that they wake up and start complaining and pointing to their general state of victimhood. In his book Tehzeebi Nargisiyat (Sanjh Publications Lahore, 2009), Mobarak Haider goes into the minutiae of collective Muslim narcissism and examines all their overt and hidden postures, and comes up with a key to the understanding of the Muslim mind.

Haider says if you think Muslim isolationism and pride are of recent date, you are mistaken; Muslims have always been like that. It is their understanding of Islam that permits extreme posturing, while at the same time giving them the rhetoric of peace that no one takes seriously. If a Muslim terrorist kills another Muslim, the unthinking verdict is that the killer couldn't be a Muslim or he wouldn't have done it. Yet the bitter truth is that despite all their aggressive strutting, Muslims are busy killing Muslims all over the world. When they travel abroad and are treated with fear and loathing at international airports, they pocket their narcissism and suffer in silence. Strangely, pride doesn't recommend refusal to migrate.
Author Haider bases this narcissism on the way Muslims absorb the following tenets of their faith: 1) Islam is a complete code of life and offers solutions to all problems; 2) Every edict of Islam is eternal and applicable to all times; 3) Islam is the only truth and any other competing truth must mould itself according to Islam or be ready to be suppressed; 4) Muslims are under obligation to make Islam the supreme religion of the world as other religions are jahiliyya; 5) Muslims are the foremost nation in the world and the only one that will be allowed into Heaven; 6) Action taken to subjugate other civilisations is jihad and not terrorism.
There are other 'collective' illusions contained in the edicts that follow: 7) Violence is interpreted as jihad, but then jihad is supposed to be the personal obligation of Muslims and not the state; 8) Any deviation from the prevailing dogma is non-belief or kufr; in more mitigating conditions, it is at least heresy; 9) The best knowledge is knowledge of religion and the ulema are the best among men, which means that no one can think about religion on his own; 10) No one can become a scholar of Islam except by accepting the dogma and obeying the edicts of tradition.
The Taliban are the climax of the journey of blind dismissal of the world outside the Muslim self. The idea is to rule the world not through acquisition of knowledge but through the use of the sword. The Taliban are the symbol of Pakistan's recession into the self in the face of modern challenges. The biggest self-destructive vice that springs from this is uniformity of thinking or yaksaniyat (p.62).
Pakistan in its official and unofficial mythology claims that superpower Russia was defeated by the Taliban; and superpower America, too, will now be defeated by the Taliban, a glory in which Muslims of the world will indirectly participate. Corrupt politicians returning from the fleshpots of Europe, where they have just spent a part of the wealth gouged from Pakistan, complain that the West has lost its spiritual values and is now looking beseechingly at the Muslims as an agency of the revival of the western soul.
Published in The Express Tribune, March 27th, 2011.
The writer is a director at the South Asia Free Media Association, Lahore. khaled.ahmed@tribune.com.pk
AHMADI, ISRAEL, SIR ZAFAR ULLAH
The Proven Links of Ahmadies & Israel – A Hidden Fact
In Anti Ahmadiies on June 25, 2010 at 11:46 am
One of the Pakistan's greatest Ahmadi betrayer Sir. Zafarullak Khan who was unfortunately Pakistan's first foreign minister provided a great damage to Palestine for fulfilling  his community wicked plans to be settle in Haifa – An Israeli City. Please read the following article which is opening a new debate & unveiling his role.

Pakistan delegation to the UN was led by Sir Zafarullah, the Foreign Minister of Pakistan and included Mirza A.H Ispahani, Pakistan Ambassador in Washington, Mir Laiq Ali, Abdul Sattar Pirzada and Begum Tasadduq Hussain.
The position taken up by Pakistan with regard to Palestine in the UN was that the Balfour Declaration and the League's Mandate were invalid and against the wishes of people and the proposal of partition was contrary to the Charter.
The Ad Hoc Committee to which Palestine question was referred by the General Assembly, appointed two sub-committees to deal with it. These sub-committees were so constituted that all the members of sub-committee I were in favour of the partition while the member of sub-committee II opposed partition. Thus there was no hope of a compromise solution emerging from either sub-committees. To redress this situation, the Chairman of sub-committee II, who was the representative of Colombia, requested the Chairman of the Ad Hoc Committee to nominate two states holding a neutral attitude in place of two Arab states, who were members of the sub-committee and who were willing to resign from it. On the refusal of the Chairman of the Ad Hoc Committee, the representative of Colombia resigned his Chairmanship of sub-committee II and Sir Zafarullah was elected in his place.
Sub-committee I, in its report recommended the internationalization of Jerusalem and the partition of rest of Palestine into two states, one Arab and the other Jewish, with a common economic council. Sub-committee II recommended a unitary state for the whole of Palestine with constitutional safeguards for the rights of all its inhabitants.
A Crucial Mission
Although Mirza Mahmud left Qadian and had come to Lahore and was faced with the crucial problem of finding a place to set up a centre in Pakistan, he never lost sight of Palestine question. When the issue was being discussed in the UN, he instructed Hakim Fazal Rahman, Qadiani missionary of Nigeria, to visit Palestine immediately. Walillah Shah and Jalaluddin Qamar were also instructed to go to Middle East and East Africa respectively to provide support to them. Hakim Fazal Rahman reached Beirut on 31 October 1947. Sheikh Noor Ahmad, Qadiani missionary Palestine writes:
"Hakim sahib suddenly arrived in Beirut and made effort to search me out. I was in Lebanon to see the cousin of Jamil Bek, the Prime Minster of Lebanon. I met Hakim Sahib on my return from Lebanon. Since he had to reach Pakistan, he wanted to go to Palestine at the very earliest. Anyhow, he left for Palestine on 4 November. Jama'at Kababir welcomed him, Hakim Sabib toured the cities of Jerusalem, Nasara, and Acca. He desired to see members of the Arab League Committee but owing to shortage of time he could not visit them. He stayed in Palestine for ten days. Then he left for Damascus.  Noor Ahmad further states that he went to Beirut in connection with a very important work. During his absence from Damascus, Hakim Sahib saw many Barristers and Advocates, besides military officers. Hakim left for Karachi on 22 November 1947."
Palestine issue came under frequent discussions in Lahore. In an important meeting held at Lahore, Mirza Mahmud discussed it in the context of an Arabic revelation of Mirza Ghulam Ahmad which says:'The holy men (Abdals) of Syria prayed for us (Arabic).' He interpreted it to mean that a section of Ahmadiyya Jama'at had to go to Syria in near future.
AlFazl reports:
Syed Jamal-ul-Hussaini

, the leader of the Palestine delegation hurriedly approached him and enquired why he had done like that. Sir Zafarullah says that he explained the position and apprised him of the Danish strategy. To his utter surprise, he asked him in case all of his amendments were accepted he would favour the partition scheme: Zafarullah: No! We will be strongly opposing it. We want at least to weaken the partition plan even if it is accepted. It will not be as bad as it is now.
J

amale : We (Palestinians) will be in great difficulty then.
Zafarullah: You may inform Arab representatives that they may not vote in favour of an amendment and remain neutral.
Jamal: The difficulty still persists.
Zafarullah: What is that?
Jamal: If the Partition has not manifestly usurped our right, our people will not be prepared to wage a war against it. We will incur a heavy loss. We will be thankful if you do not propose any amendment!
'Hazoor (Mirza Mahmud) while discussing the revelation of the Promised Messiah that'Abdals of Syria prayed for you' declared that a friend had drawn his attention to the point that the Promised Messiah 's revelation had come in the context of those revelations which signified distress. Hazoor said that this revelation had already been under his consideration. In Palestine adverse condition were prevailing. However, it would be possible that a section of Ahmadiyya Jama'at from us might have to go Syria. The revelation can be interpreted in two ways: One that the Abdal of Syria prayed to God for us and the other that they called us.'  Amended Plan
In the UN, Sir Zafarullah opposed the partition scheme in accordance with the stand taken by Pakistan on the Palestine issue. It may be recalled that the Quaid had always supported the Palestinian cause in numerous conferences, interviews, press releases and through the resolutions of the Muslim League at its annual sessions, Council and Working Committee Meetings from 1937-48.Pakistan's stand was absolutely clear. In reply to a question by Reuter's correspondent Duncan Hooper (25 October 1947), the Quaid said:
'The leader of our delegation to the UN, Sir Muhammad Zafarullah Khan, has clearly defined our position regarding the latest developments in Palestine.'
Strangely enough when discussions were going on the partition scheme in the UN, Zafarulla started proposing amendments to it, which meant that he, in principle, agreed to the scheme if it was slightly amended. That was said to be done on the suggestion ofDanish representative with a view to 'crippling' the scheme. Zafarullah says that he proposed an amendment just to see the reaction on it but the amendment was immediately accepted after voting.
Zafarullah: I got silent.
What was the real intention of Sir Zafarullah? Did he intend to sabotage Palestine case by favouring an amended Partition Plan instead of a unitary form of Government for a united Palestine? How far it projected Pakistan's stand on Palestine issue? These questions need a suitable reply.
Sir Zafarullah, in his speech, deeply sympathised with the Jews in the misfortune that they had suffered in Europe. But the correct solution of their problem, he pleaded, was that they should be reabsorbed in the countries to which they belonged and if that were not possible, they should be offered facilities for settling down in the larger, newer countries, which had more space and greater resources than tiny Palestine.
The supporters of the partition scheme were determined to see it through at all costs. The vote was to be taken in plenary session on 26 November 1947. But according to Sir Zafarullah, if it had been put to the vote on that day, partition could not have been carried. But the UN Secretary General informed that the UN staff would not work on Thanksgiving Day (28 November) therefore the matter must be postponed. When the matter came to actual voting after the adjournment, some of the states whose representatives opposed partition proposal tamely supported it at the behest of America and the resolution was passed. Then necessary two third majority was obtained for the partition scheme which was backed both by the US and the Soviet Union. Zafarullah feels convinced that it was the personal intervention of President Truman that brought about these changes.'
During the thanksgiving interval when the US was availing time to secure required majority for the Partition Plan, a correspondent asked Sir Zafarullah: What were the basis of successful negotiations between Arab and Jews? He replied: 'If they agree to appoint me an Arbitrator I can solve the matter on correct lines.'

24

 It is not clear why and in what capacity he offered his services for arbitration and how far it fell in line with our stand on Palestine?
What was Ahmadiyya reaction to the 'creation' of Israel? AlFazl Lahore wrote a short column on the unjust resolution of partition and creation of a Jewish state. It was called a great defeat for the Arabs but at the same time its two bright aspects were stressed. Firstly, the Arab countries would know how to stand on their feet without inculcating wishful thinking for the West. Secondly the Arab countries would have realized the benefits of unity.
The paper neither condemned the partition nor exposed Imperialist-Zionist intrigues in any way

. On the contrary Mirza Mahmud called the creation of Israel a fulfillment of prophecy already given in the Holy Quran, Ahadith and the Bible. The Qadiani elders also emphasized that Mirza Mahmud had already visualized it in a dream and his prophecy relating to 'Modified Treaty' clearly stipulated the Soviet assistance for the Jewish state. The prophecy is said to have been gloriously fulfilled after the creation of Israel.

27
Zafarullah 's Role
Sir Zafarullah, in the capacity of the leader of Pakistan delegation to the UN was supposed to project Pakistan's stand on Palestine issue. I.H.Ispahani says Zafarullah did well Anyhow, he was Pakistan's representative and not a spokesman of Qadian. But it is very strange that whenever Qadiani role in support of Jewish "

aspirations

 " is exposed, they quote Pakistan press comments given in favour of Zafarullah's speech at the UN, as if Pakistan stand on the issue was similar to that of Qadian's. It is nothing but an attempt to conceal real facts.
The fact is that Zafarullah later on exploited Pakistan stand and his position to project Qadianism and to deceive Arab countries. When he returned from the UN he deliberately stayed in Syria  to spend some time with Ahmadiyya community in Syria. He was welcomed at the airport by the Syrian officials as well as Sheikh Noor Ahmad Munir and other members of Qadiani community. Also present at the airport were Syed Sohail, the personal envoy of Syrian President, Ustaz Arif Hamza, representative of Syrian ministers, Ghalib Muoze Bek, General Superintendent Police, Fuad Mueen Bek and Izzat, and members of the Arab League. Zafarullah met the Syrian dignitaries in an ordinary and casual way but freely chatted with Qadiani members and warmly embraced them at the airport. That looked quite strange to the Syrian officials.
Noor Ahmad Qadiani writes in his report:
'The representatives of Arab League asked the police officers who were these men (whom Zafarullah met so frankly). But he did not know Chaudhry Sahib had come to Damascus on our invitation and in accordance with our requests. His arrival here was a source of joy for us and moved by these feelings, every one desired to exchange greetings and embraced him with love. Every Syrian seemed to be surprised at it. They thought that Chaudhry Sahib had come here as a stranger. The Syrian press highlighted the reception accorded by Ahmadiyya Jama'at to him. In this way the Syrians came to know about the religious and political position of the Jama'at.' Noor Ahmad further states: 'The Syrian President requested Sir Zafarullah to have a lunch with him on 13 December 1947. He also invited me to lunch. We were informed that he (Zafarullah) would be the stage guest and a room had been reserved for him. Chaudhry Sahib asked me to request the President to allow him to stay with his Ahmadi brothers. He would like to stay in the hotel for only one night for his pleasure. I conveyed a literal translation of it to the President. He was very much amazed to hear it and inquired with surprise: 'With whom he would stay'? I explained him in detail that Chaudhry Sahib would stay with us and we had made all arrangements in this regard.' 

31

 Sir Zafarullah called on Mufti-e-Azam Palestine in Lebanon and exchanged views on Palestine question with high officials. He lunched with the Prime Minister of Lebanon, Jamil Bek alongwith a Qadiani party. Some important political issues were discussed during his stay with the President. In Beirut, Um-e-Jazam, the widow of the former President of Lebanese Parliament, Sheikh Muhammad Jassar was engaged in political activities. 

She and her husband embraced Qadianism for political reasons.
Zafarullah gave a proposal to Mirza Mahmud to launch a proselytising campaign in Arab states through setting up new mission. In subsequent years he fielded his missionaries in the Middle East in accordance with this plan.
Activities in Israel
Soon after the so-called State of Israel was proclaimed, the Palestinians waged an all out war against the Zionist forces. The Arab countries, Syria, Lebanon, Transjordan and Egypt went into action against the Jewish state in support of Arabs of Palestine. Saudi Arabia and Yemen declared their participation in the war on the side of the Arab countries. In the armed conflict most of the territory of Arab states was forcibly annexed by Israel. The General Assembly 'decision' of 29 November 1947 for one Arab state remained unfulfilled. Israel carved out for herself 20700 sq. kilometer or nearly four-fifth of Palestine.
Ch.Muhammad Sharif, in his report sent from Israel to Pakistan calls the Israeli aggression, its 'Victories' and says:
'On 23 April, 1948 Jews conquered Haifa. On 24 and 25 May they occupied suburbs of Haifa. Now came the turn of Arab population of Kababir. Early in the morning it was surrounded by the armed forces. They asked us if we wanted to leave the place then we should deposit all arms and surrender. We acted in accordance with the saying of the Holy Prophet (p.b.o.h), 'A man who dies in defense of his wealth and land is a martyr.' No army officer approached us. We gave 'all clear' (to the Jewish military forces) after making hectic search and investigation till evening.'  Mirza Mahmud fully realized the importance of Ahmadiyya Mission in Israel. He sent a special message ot Qadiani community of Israel from Lahore, a day before the termination of the British mandatory rule in Palestine. He instructed Kababir Jama'at of Israel not to sell their lands to Jews. Dost Muhammad, the compiler of Tarikh-e-Ahmadiyyat quotes an unpublished record of Ahmadiyya Advisory Body, Ratan Bagh, Lahore, dated 15 May 1948 stating that Hazrat Khalifa sent the following message to Ahmadis of Israel: 'Write to Ahmadis of Syria to convey through whatever means they have, the message to Ahmadis of Kababir (Israel) to spend the difficult days with patience and in no way sell their lands to Jews whatever prices are offered to them.'  Brutal massacres and destructions were wreaked on Arab villages by Zionist organizations. There was ruthless murder of children and old people. The whole population of village Deir Yassin was mercilessly slain by the Hagana forces. The unarmed Palestinians fled in utter despair and panic from the villages to save their lives. During these days Ahmadi missionaries found an 'excellent' opportunity to exploit the miseries of Palestinian refugees. They visited the refugee camps and invited them to accept the false prophethood of Qadiani pretender. They also spied for the Zionists and informed them of the Palestinian resistance activities.
Rashid Ahmad Chughatai, in his report for the months of August-October, 1948 sent from Israel to Pakistan states:
'

I went to the city of Saur to see Ahmadiyya brothers of Haifa. There I preached Ahmadiyyat to Palestinian refugees. I stayed there for two days on the insistence of Ahmadi brothers. Besides preaching I spared time for their training. The Ahmadiyya message was given to 29 persons. Discussions took place with one of them for 4 to 6 hours. Some books were given to him to study Ahmadiyya creed.'

 These shameful activities continued in utter disregard of the miserable plight of helpless refugees residing in tents and open. Ch.Sharif sent a report from Israel to Pakistan for the period 15 August, 1948-June, 1949. He says: 'We saw the cities falling in front of our eyes. During these days nothing was heard except fire shots and every night we thought the day would not break on us. Although we were surrounded yet we continued to spread the message of Ahmadiyyat.' An Absurd Proposal
On 16 May 1948 at the time of withdrawal of British forces from Palestine, Mirza Mahmud wrote a pamphlet in Urdu on Palestine question. Its Arabic translation was published from Iraq for wider circulation in the Middle East. The main theme of the pamphlet was:
Jews are occupying the holy places of Islam in accordance with the prophecies of the Heavenly Books. They intend to occupy the holy places of Islam. The greatest enemy of Islam is the Soviet Union. Its policy is much more dangerous to Islam than that of America. Pakistani Muslims should give at least one percent of their properties to the Government. In this way Rs. one billion may be collected. The Islamic world will follow the example and would contribute a sum of Rs. five to six billion for purchase of arms despite opposition from the Western countries. The holy places of Islam are in danger. Muslims should unite to defend them. In the end, it was emphasized that the prophecies of the Quran and Hadith undoubtedly stated that: 'Jews would certainly occupy Palestine but only pious people would rule it forever. To shorten the period of prophecy Muslims should make sacrifice by casting aside their irreligiousness, heretic beliefs, lethargy and sluggishness.' 

The pamphlet does not condemn Israel nor its brutal policies against the Arabs.

 Neither any sympathy with the Palestinian refugees has been expressed in any way. The proposal to hand over one percent of properties is not only impracticable but also ridiculous. At the time of partition, the Muslim refugees had even no place to take refuge not to speak of their properties. It was an attempt to win over the sympathies of Arabs in order to establish future pro-Zionist missions in the Middle East. Qadianis always considered themselves the chosen and pious people who would ultimately settle in Israel.  Being firm believers in the prophecies of their Promised Messiah, Qadianis uphold that Mirza Ghulam Ahmad's revelations i.e. 'I have saved Israel from detriment. The Pharaoh and Human, the armies of both, are in the wrong,.. Avenues useful for Arabs, Arabs set out from their home' relate to restoration of Jews in Palestine. The Review of Religions, Rabwah, explains: 'This feature of the prophecy received a clear fulfillment. The war (1914) was not yet over when, a sa consequence of war itself Mr. (later Lord) Balfour declared that the people of Israel who had without a 'homeland' would be settled in their ancient 'homeland', Palestine. The allied nations promised to compensate the people of Israel for injustices done to them in the past. In accordance with these declarations, Palestine was taken from Turkey and declared the national home for the Jews. The administration of Palestine was shaped so as to make it easy for Jews to make it their homeland. A very old demand of the Jews that conditions promoting their national cohension should be created for them was met…'

38

 The Qadiani jopurnal further emphasizes: 'The revelation of the Promised Messiah also says 'I will relieve the Children of Isreal.' This indicated a great change in the position of the Jews. It indicated the end of the opposition which nations of the world had offered so long to an independent home for Jews.'
Mirza Nasir Ahmad, the third successor of the Ahmadiyya community, was on his European tour in 1980. At a press Conference at the Café Royal in Piccadilly, in reply to question whether he recognized the State of Israel, he stated that he could not refuse to accept a fact of history that Israel 

exists.After

 his death Mirza Tahir Ahmad captured the Rabwah 'gaddi.' He very shrewdly put forth his point of view over the issue. His booklet'From Rabwah to Tel Aviv' is an interesting study on the subject.
During the Gulf War (1991), he gave a series of 'revealing' addresses and an analysis of the role of big powers in the political upheavals in the Middle East. He also discussed the past role of Israel as an ally of Western countries. 

40

 It was an updated beat, a smoke screen to debunk the anti-Ahmadiyya propaganda. He continued to enjoy the support of Western countries and the Jewish lobby.
GEO, Hindu Axis, Qadiani, Zionistsa
This entry was posted on Wednesday, April 23rd, 2014, 4:16 am and is filed under Pakistan-A Nation of Hope. You can follow any responses to this entry through RSS 2.0. Both comments and pings are currently closed.