Shaikh Saadi Said about Nawaz Sharif & Shahbaz Sharif's Kashmiri Race:
Agar Qaht-e-Rajal Bashad Zeeshaan Az Aun Na Geree
Yak Kamboh, Doyam Afghan, Soyam Badzaat Kashmiri"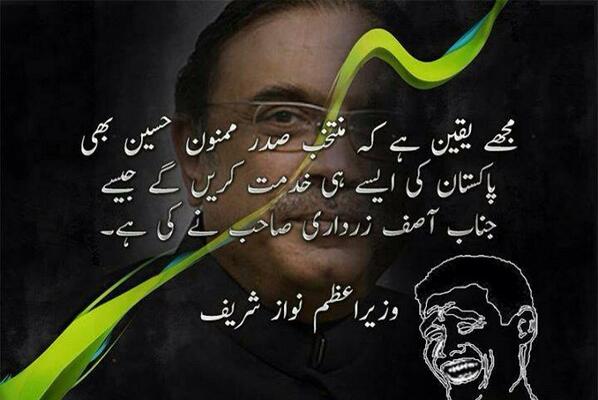 Translated: 
Never trust three castes/creeds:
1. Awal Afghan ( First: Afghanistan )
2. Do-am Kamboh ( Second: Kaboh )
3. So-am Badzaat-E-Kaashmeeri ( Third: Inferior & felonious Kashmiri )
 Throughout History Kashmiris have backstabbed their benefactors. Even, US will find one day Nawaz Sharif, the Scion of an Amritsari, Kashmiri Family will back stab them. These are felonious people, who have been punished by God and put under the slavery of Hindu (115000 gods)
This aphorism from a Muslim Sage, 

Saadi Shirazi

,alludes to the untrustworthy and backstabbing nature  of Kashmiri psyche. Nawaz Sharif is a Kashmiri Trojan Horse for US. He will act as if he is a friend of China, he will work against Chinese interests. His first stealth act of treachery against China, will be in the form of foot-dragging on the Gwadar Port Agreement. He will delay Chinese help on the Reko Diq Project. He will also use dilatory tactics in the Power Sector, and do his utmost to politically sabotage the chashma III IV projects. He will appear overly friendly to China, but, he carries a dagger to stab China in the back.
Cross-border bonhomie couldn't get more pronounced. In Panchkula on Friday, Kanav Pratap Hoon, the grandson of Siachen hero Lt Gen Prem Nath Hoon (retd), tied the knot with 

Samiya Siddiq

 of Lahore, Pakistan, in a court marriage.
Although, there are denials for obvious reasons, but, where there is smoke, there is fire.  Neither, Nawaz Sharif nor his dictatorial ilk brothers have denied this news. This happens more often than reported. Kashmiris are historically  known for sleeping with the enemy.
Kanav, 27, and Samiya, 26, had met in Dubai for the first time and fell in love. Samiya is the daughter of Shazia Siddiq and Mian Muhammad Siddiq while the Hoons are natives of Abottabad in Pakistan. Kanav helps in his family's business of Hyundai dealership at Chandigarh's Industrial Area. At the lunch organised on Friday at Taj Chandigarh, Sector 17, for close friends and relatives of the bride and groom, many guests from Pakistan were also in attendance. Prominent local politicians included Punjab MLAs Kewal Singh Dhillon, Rana Gurmit Singh Sodhi and Rana Gurjit Singh.
Though the bride and groom refused to talk to the media, Lt Gen Hoon came forth to clear the rumour that the girl belongs to Pakistan Prime Minister Nawaz Sharif's family. "It is a lie. People should do their homework (before making such statements)," he said. On getting a Pakistani bride for his grandson, Lt Gen Hoon remarked, "It is a good development that relations are being tied across the border," and added, "People across the border should meet often. Pakistan Prime Minister Nawaz Sharif should talk to our prime minister. Recently, they had talked about a demographic change being introduced in Rajouri [a district in Jammu]." 
Hoon said 

"whosoever is living in India is an Indian,"

 and that "giving respect and talking are two different things." The former commander of Indian Army's Western Command, Lt Gen Hoon was heading 15 Corps regiment when 

India took over

 the highest battlefield in the world, Siachen. Operation Meghdoot was the codename of the military exercise undertaken to capture Siachen and launched on April 13, 1984. Till today, Pakistan lays claim on the glacier.