Last Updated On 17 December,2019 12:02 pm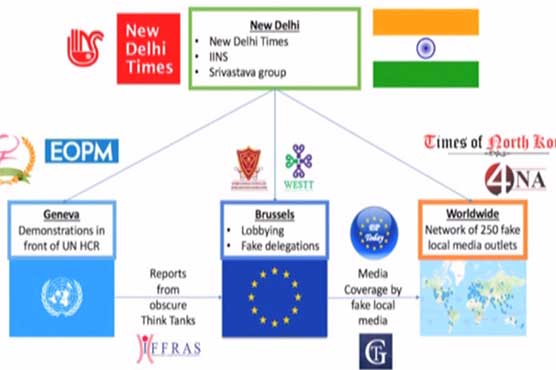 These platforms allegedly promote India's geopolitical interests through republication of propaganda
LAHORE (Dunya News) – EU DisinfoLab, a Brussels-based disinformation watchdog, has cracked open a network of dormant companies, think tanks and fake media outlets that promote India's diplomatic interests to influence the European Union (EU) and the United Nations (UN) with content critical of Pakistan.
In November, the non-governmental group, after carrying out investigation, in its initial findings had uncovered a nexus of 265 fake media outlets across 65 countries to influence the EU and the UN with content critical of Pakistan.
These platforms allegedly promote India's geopolitical interests through republication of propaganda pieces and op-eds.
EU DisinfoLab uncovered links between zombie companies, dormant media outlets, and legally non-existent organisations, lobbying the EU and also the UN by constantly targeting Pakistan.
Questionable news portals mentioned in the investigation include Times of Los Angeles, Times of Portugal, EP Today, Times of Geneva, New Delhi Times, New York Journal American, and Times of North Korea. Most websites had Twitter presence as well.
The investigation found that the news outlets were managed by Indian stakeholders, with ties to a large network of think tanks, NGOs, and companies from the Srivastava Group.
The entire campaign ultimately dovetails with India's Aug. 5 move to wrest tighter control of Jammu and Kashmir, and garner support for the country internationally.
Whereas, Pakistan has accused India of altering the international border, India maintains that Jammu & Kashmir is its internal matter.
EU DisinfoLab's investigation demonstrates how this network of think tanks, NGOs, and media outlets has already translated into a set of EU parliamentarians visiting the Kashmir valley on Oct. 30. The visit was perceived by some as a sign of validation for the government's move. It came amidst international attention on curbs on free speech and human rights violations in the Kashmir valley.
---
Who fuelled the network?
---
EU DisinfoLab's probe goes back to October, when it found that "eptoday.com – the website of a self-proclaimed magazine for the European Parliament in Brussels – had been re-publishing a large amount of news directly from Russia Today and Voice of America.
"Among this syndicated content, we unexpectedly found that a large number of articles and op-eds related to minorities in Pakistan as well as other India-related matters," EU DisinfoLab said on its website.
"This probe led EU DisinfoLab to conclude that EP Today was managed by Indian stakeholders, and had links with a vast interweb of think tanks, NGOs, and companies from one Srivastava Group.
"We also found that the IP address of the Srivastava Group is also home to the obscure online media 'New Delhi Times' and the International Institute for Non-Aligned Studies (IINS), which are all based at the same address in New Delhi, India," EU Disinfolab stated.
A few weeks after this, on Oct. 30, a group of 27 EU parliamentarians, mostly from right-wing political parties, visited the restive Kashmir Valley. This was perceived as a show of support for Indian prime minister Narendra Modi's big agenda for the newly created union territories of Jammu & Kashmir and Ladakh.
Through shared phone numbers and an office address in Brussels, as well as shared web servers, EU Disinfo Lab found Srivastava Group to be at the heart of the network.
Srivastava Group is an Indian holding company which declares on its website that it has "interests in Natural resources, Clean energy, Airspace, Consulting services, Healthcare, Print Media and Publishing".
The IINS is based at the same address in Delhi as Srivastava Group and an obscure media outlet called New Delhi Times.
BBC News Hindi reporter Kirti Dubey visited the address and was told by a security guard there was no office in the building. A neighbour who had lived in the area for 40 years told her he had never seen anyone in the house. Srivastava Group did not respond to the BBC's attempts to request comment by phone and email.
The visit was reportedly organised by IINS, and facilitated by a lobbyist called Madi Sharma. India does not recognise lobbying.
Sharma soon came under scrutiny for her shady credentials, since her NGO, Women's Economic and Social Think Tank, itself turned out to be a lobbying firm.
---
Key findings
---
Eventually, the EP Today investigation uncovered other shady links and fake media outlets. The map below shows how many countries have such platforms that republish content promoting India's diplomatic interests.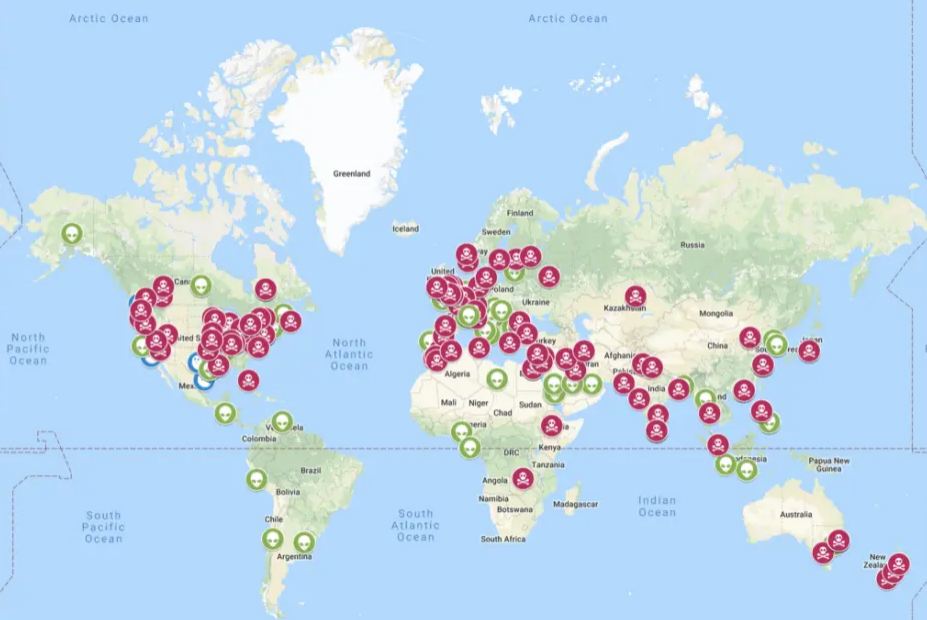 These were its key findings:
1. Most of them are named after extinct local newspapers or spoof real media outlets;
2. They republish content from several news agencies (KCNA, Voice of America, Interfax);
3. Coverage of the same Indian-related demonstrations and events;
4. Republications of anti-Pakistan content from the described Indian network (including EP Today, 4NewsAgency, Times Of Geneva, New Delhi Times);
5. Most websites have Twitter accounts, too.
---
EU DisinfoLab explains how can mere republishing of articles amount to geopolitical lobbying
---
1. Influence international institutions and elected representatives with coverage of specific events and demonstrations;
2. Provide NGOs with useful press material to reinforce their credibility and thus be impactful;
3. Add several layers of media outlets that quote and republish one another, making it harder for the reader to trace the manipulation, and in turn (sometimes) offer a "mirage" of international support;
4. Influence public perceptions on Pakistan by multiplying iterations of the same content available on search engines.
---
 Offline efforts 
---
In its full report released on Monday, the EU DisinfoLab further detailed offline efforts of the Indian network assisted by 'fake' NGOs and organisations responsible for anti-Pakistan lobbying events in Europe.
According to the report, the organisations including EOPM (European Organisation for Pakistani Minorities) and VOPM (Voice of Pakistani Minorities) were behind all the campaigns organised in Geneva against Pakistan on the subject of the treatment of minorities.
The organization issued a press release on the campaign.
"The initiative has been taken during the 36th session of Human Rights Council in Geneva by Pakistani Women Human Rights Organisation and European Organisation for Pakistani minorities (EOPM). The European Organisation for Pakistani Minorities, an NGO, has displayed its posters on taxi bikes," it read.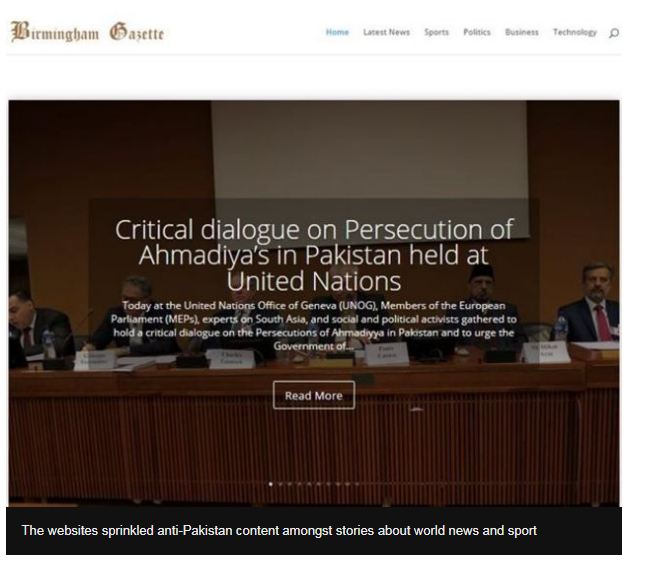 "More than the fake media outlets alone, it is their combination with the fake NGOs that's really worrying because it provides a mirage of online and grassroots support to a cause. That's exactly where the disinformation lies," Alexandre Alaphilippe, executive director of EU Disinfo Lab, told the BBC.
For example, one of the sites is called Manchester Times. Its "About Us" section uses text copied from a Wikipedia entry about a newspaper with the same name.
But it omits an important part of the Wikipedia description, which states: "The newspaper's last issue appeared on 22 July 1922." It also fails to declare the website's links to Indian interests.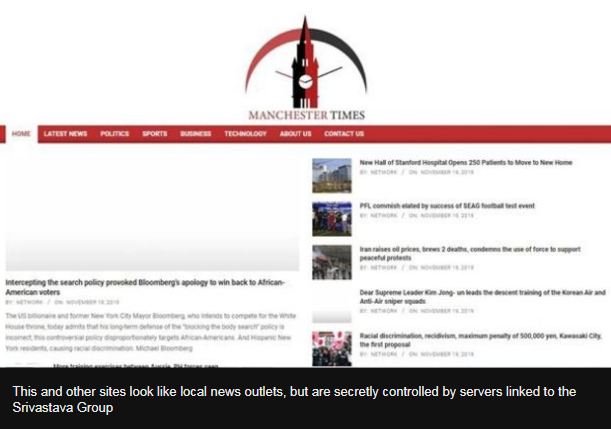 Six of the sites use misleading names, like "Times of Los Angeles" instead of the better known "Los Angeles Times".
The Times of Geneva is one of the most sophisticated websites in the network, and creates a lot of video content. Its activities appear to target decision makers at the U.N.
The website hasn't been updated since 19 Nov., a few days after EU Disinfo Lab first announced its discovery of the network.
The BBC tried calling the phone number on the Times of Geneva's website, but it has been cut off. Its YouTube channel has been disabled and its Twitter account suspended.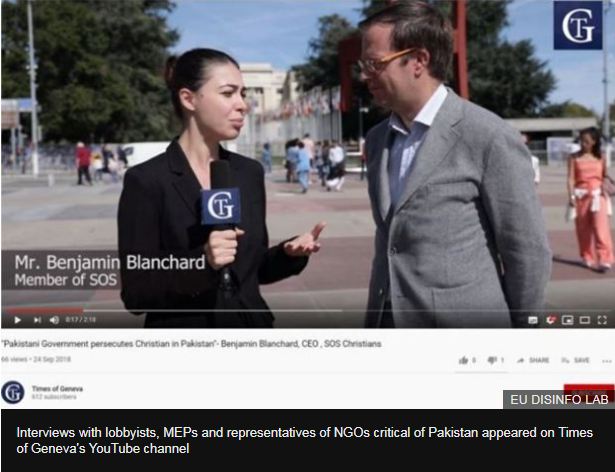 Mr Alaphilippe believes the network was created to influence international institutions and elected representatives.
"We think the main goal was to be able to reach policymakers in Brussels and Geneva, without being able to trace back to those behind the manipulative network. And this worked!" he told the BBC.
"MEPs [Members of the European Parliament] have engaged directly with this network on a multitude of levels, whether that's been through writing op-eds for their media, participating in overseas trips and press conferences, or by speaking in the European Parliament on behalf of the cause."
In an email to the BBC, he says what struck him was that "somebody went to pains to set up hundreds of inauthentic sites to bolster coverage of issues aligned with India's interests, and then used (unwitting?) European MPs to lend legitimacy to some of those sites".
"The real-life implications are that officials can be hand-fed and regurgitate specific talking points, completely unaware about how they got them."
In 2017 posters with the message "Free Balochistan" and other slogans supporting minorities in Pakistan appeared on streets in Geneva, resulting in Pakistani authorities summoning the Swiss Ambassador to demand the removal of the posters.
The EU Disinfo Lab report highlights that this year, a campaign was launched in front of the United Nations office in Geneva about Balochistan. The protest used the hashtag #PakistanStopGenocide, with speeches made by various individuals named in the report. It was extensively covered in media outlets in the network, such as the Times of Geneva.
India has also been on the receiving end of critical outdoor advertising in Europe. Earlier this year, during the Cricket World Cup in England, banners were seen flying over the stadium during India's match against Sri Lanka at Headingley, Leeds, with messages such as "Justice for Kashmir" and "India Stop Genocide and Free Kashmir".