Nepali Gorkhas may soon not be a part of the Indian Army 
By Ritu Sharma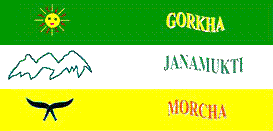 ima
New Delhi, May 12 (IANS)India's first field marshal, S.H.F.J. Manekshaw, preferred calling himself Sam 'Bahadur' as a sign of respect for the brave Gorkha soldiers, most of whom came from Nepal. However, a call by Nepal Maoist chief Prachanda not to allow them to join the Indian army could impact on traditionalmilitary ties between the two countries. "If anyone says he is not afraid of anything, either he is lying or he is a Gorkha," Manekshaw once said.
Gorkha National Liberation Front
Chairperson
Subhash Ghisingh
Founded
1980
 
 
Party flag
 
However, Prachanda, who is poised to head the government in the Himalayan nation, told reporters April 25 that Nepali Gorkhas should not be allowed to join Indian defence forces.
There are two types of Gorkhas in the Indian Army – those hailing from India (who have migrated from Nepal long ago), and the others from Nepal. Under a tripartite agreement signed between India, Nepal and Britain in 1947, Gorkhas from Nepal were allowed to work in the British and Indian armies. Currently, nearly 40,000 Nepali Gorkhas are employed in the Indian Army.
"Nepali Gorkhas have been part of the Indian Army for a very long time. If they are stopped from joining the army then the association between the armies and also the countries will be affected," former Chief of Army Staff Gen. Ved Prakash Malik told IANS.
"Besides the large number of Nepali Gorkha soldiers, we also have a large number of pensioners in the country. The pensioners are looked after by us only. We have opened hospitals and other facilities at Kathmandu and other parts of Nepal," Malik added. In some villages in eastern Nepal, about half of the families have one or more pensioners from the Indian Army.
India and Nepal share such a close relationship that the Indian Army chief is honorary chief of the Nepali Army traditionally and vice-versa.
"It is not just a question of strength but also our proximity and tradition," said Malik.
Besides impacting the age-old ties between the two nations, Prachanda's demand, if acceded to, can lead to anarchy in Nepal due to large-scale unemployment, say military experts here.
"The Indian Army and the British Army – which also has a Gorkha regiment – are a major source of employment for Nepali youth. There can be unrest in the Himalayan kingdom, leading to a big problem," Major General (retd) Afsar Karim told IANS.
Prachanda's call has put the Gorkhas in a moral dilemma – of choosing a life in their country or one that will ensure livelihood and sustenance.
"The Nepali Gorkha soldiers send a lot of money back home, contributing in a big way to the Nepali economy," an army official said.
However, experts do not see any major operational problem for the Indian Army if the Nepali Gorkahs are forbidden from joining.
"If Prachanda's demand ever materialises, the Indian Army would not be affected operationally as the army has reduced considerably the number of Gorkhas," Karim added.
The first battalion of the Gorkha regiment was raised during British rule in 1815. The Gorkhas have served the Indian Army with valour since then.
Gorkhas have played a crucial role in India's three wars with Pakistan (1947-48, 1965 and 1971) and during the India-China conflict in 1962. A Gorkha battalion served with distinction as part of the Indian Army contingent in the United Nations Operations in the Congo (now Zaire) in the 1960s.
(Ritu Sharma is a correspondent with IANS. She can be contacted at ritu.s@ians.in)