As India's Muslims are lynched, Modi keeps silent
By Nilanjana Bhowmi
There is a silent but systematic slaughter against Muslims in progress in India. It's not too late to call it out.
NEW DELHI — On June 23, three days before India celebrated Eid, 15-year-old Junaid Khan was stabbed to death by a group of men aboard a train. He was going home to Khandawli, a village in the north Indian state of Haryana, after shopping for new clothes in New Delhi, accompanied by his brother and a couple of friends. The mob mocked their skullcaps and taunted them for eating beef, before stabbing them.
Eid was sombre in Khandawli on Monday, as it was across the country. In a national first, scores of Muslims across the country offered their Eid prayers while wearing a black band, a symbol of protest against the killing of the teen as well as growing atrocities against Muslims in the country, which have been increasing since Indian Prime Minister Narendra Modi took office three years ago. In September 2015, a Muslim man, Mohammad Akhlaq, was lynched in Dadri near the Indian capital, over rumours that he had killed a local cow and stored its meat in his refrigerator. The month after that, 16-year-old Zahid Rasool Bhattdied when vigilante groups attacked his truck with a bomb in Udhampur. In March 2017, suspected cattle traders Muhammed Majloom and Azad Khan were hanged in Latehar. In May, traders were thrashed in Malegaon, Maharashtra for allegedly storing beef. In Jharkhand in May, 19-year-old Mohammed Shalik was tied to a pole and beaten to death, reportedly over a romantic relationship with a Hindu girl. In May, two more Muslim men, Abu Hanifa and Riazuddin Ali, were killed for allegedly stealing cattle in Assam. More recently, on June 7, a Muslim man was attacked in Dhanbad, Jharkhand, on suspicion of transporting beef to an Iftar gathering. Two more cases of lynching over cow slaughter rumours were reported earlier this week in eastern India.
On Sunday, before his first visit with President Trump, Modi addressed India through his radio program Mann Ki Baat (Heart-to-heart-talk). And while his monologue touched upon various topics, including yoga, toilets, sports, a meeting with the Queen, books as gifts and the … er … weather, Junaid Khan's murder didn't find a nano-second of air time.
Modi did not mention the more than a dozen cases of lynchings, mostly against Muslims, recorded in India since September last year, especially in states ruled by Modi's Bharatiya Janata Party (BJP). Modi also did not address the violence of the cow-vigilante groups, who often owe allegiance to the BJP or its ideological parent the Rashtriya Swayamsevak Sangh (RSS).
And while the list grows longer every day, the violence against Muslims and cow-vigilante groups have not elicited a single tweet of condemnation from India's social media savvy prime minister, who is quick to condemn atrocities all over the world. Modi's silence, in fact, is beginning to feel like a redux of the Gujarat riots in 2002 which killed more than 1,000 people, mostly Muslims. For years he stayed silent, and when he spoke finally, he had compared the riots to a puppy being run over.
The Hindu Hitler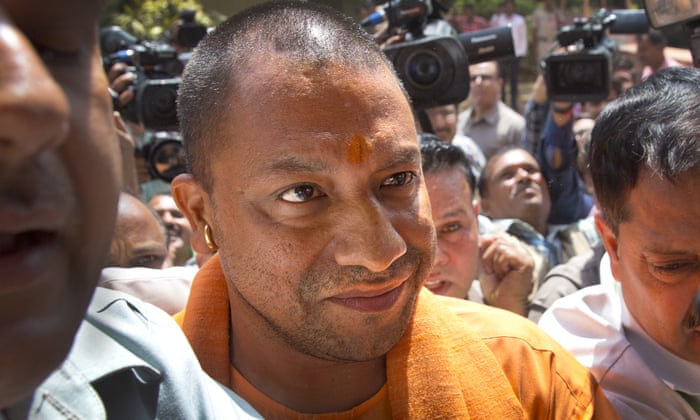 Yogi Adityanath
The Hindu Hitler
prepares to meet party leaders.
Photograph: Manish Swarup/AP
Amnesty International  released a statement Wednesday evening, calling the situation "deeply worrying" and accused Modi and other BJP leaders of not condemning the attacks and in fact to have "even justified the attacks at times." Aakar Patel, executive director of Amnesty International India, said in a statement, "The Indian Prime Minister, senior BJP leaders and Chief Ministers must break their silence and unequivocally condemn the attacks."
A soon-to-be-published report by the Mumbai-based Centre for Study of Society and Secularism and the U.K.-based Minority Rights Group International notes there has been a notable increase in hostility towards India's religious minorities since the BJP government, led by Modi, came to power in May 2014 and began to actively promote Hindu nationalism.
According to the report, the volatile state of Uttar Pradesh in north India, site of the disputed Ayodhya Ram temple and where India witnessed one of its worst communal riots in 1992, saw a spike in communal violence since the BJP came to power in the state this year. The appointment of Yogi Adityanath, a Hindu hard-liner known for his controversial anti-Muslim views, as the chief minister of the state dismayed many at the time.
Modi's silence over these attacks, the report says, has emboldened extremist right-wing groups. Recently, in another first, no BJP ministers attended the traditional Iftar gathering that the president of India hosts every year.
There is a silent but systematic slaughter against Muslims in progress in India. It's not too late to call it out.