China Counters Indian Influence in South Asia
By Sajjad Shaukat
Under the caption "Chinese investment in Bangladesh rings India alarm bells, Beijing deepens ties across South Asia billion infrastructure loans", a news item was published in the Financial Times on August 7, 2018. Its summary is:  "China has invested $3.7bn in Bangladesh to built a 6 km long bridge over Padma River which will link north and south Bangladesh by road and rail. India is disturbed over Chinese growing influence in South Asia where it funded similar projects in Pakistan, Sri Lanka, Nepal, and the Maldives. It is ringing alarm bells in India which surrounds Bangladesh on three sides and considers itself as Dhaka's principal ally. India should be concerned, given the role China is also playing in other countries which surround it. In Pakistan, Beijing is planning to spend $60bn on roads, railways and power plants as part of the China-Pakistan Economic Corridor, which will give China access to the sea via Gwadar port on Pakistan's south coast. In the Maldives, it has signed a trade agreement and has been handed a contract to build a new airport that was originally granted to the Indian company GMR Infrastructure. In Sri Lanka, it has taken control of the southern port of Hambantota after Colombo was unable to repay the money it borrowed from Chinese state-backed lenders to build it."
In fact, China is countering Indian influence in South Asia, as New Delhi has planned to establish its hegemony in the region.
In this regard, the fast-growing economic power of China coupled with her rising strategic relationship with the Third World has irked the eyes of Americans, Israelis, some Western countries and particularly, Indians. Owing to jealousy, America desires to make India a major power to counterbalance China in Asia.
America which is backing Indian hegemony in Asia, especially to counterbalance China is supplying New Delhi latest weapons, arms, and aircraft. During President Barack Obama's second visit to India, the US and India announced a breakthrough on a pact which would allow American companies to supply New Delhi with civilian nuclear technology, as agreed upon in 2008. Besides, America also announced $4 billion of new initiatives aimed at boosting trade and investment ties as well as jobs for the Indians. During Indian Prime Minister Narendra Modi's visit to America, the then President Barack Obama strongly assured him to favour India's membership in the Nuclear Supplier Group (NSG), Earlier; Washington also pressurized the International Atomic Agency (IAEA) to sign an accord of specific safeguards with New Delhi. America had already contacted the NSG to grant a waiver to India for starting civil nuclear trade on a larger scale. In the recent past, during the meeting in Washington, the US President Donald Trump also gave the same assurances to Modi.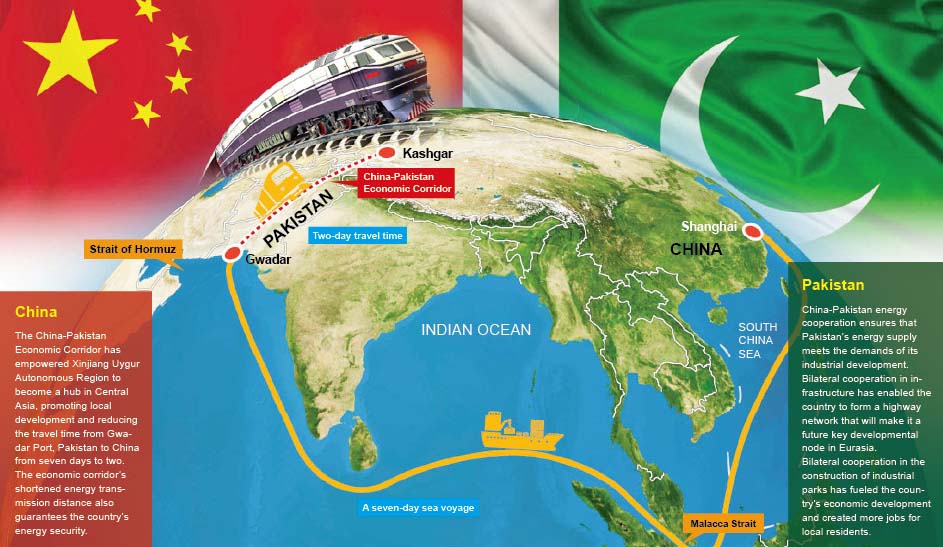 By availing the US secret diplomacy, in the pretext of the presumed threat of China, India has been trying to establish her dominance in South Asia.
Historically, India has continued interventionist and hegemonic policies vis-à-vis her neighbours through its secret agency RAW. Besides supporting separatism in East Pakistan which resulted in the dismemberment of Pakistan and continued assistance to the separatist elements of Pakistan's Balochistan province, New Delhi occupied Sikkim, subdued Bhutan, sponsored terrorism in Sri Lanka, and has been teasing Nepal.
As part of the double game, India has also been making a cordial relationship with the small countries of South Asia with a view to colonializing them gradually. For example, during the visit of Prime Minister Sheikh Hasina to New Delhi, India and Bangladesh on April 8, 2017, signed 22 agreements in the fields of defence cooperation, civil nuclear energy, space and cyber security among others, following bilateral talks between Indian Prime Minister Modi and his Bangladeshi counterpart. Both the countries also signed a Memorandum of Understanding (MoU) through which India would extend a line of credit of $500 million to support Bangladesh's defence-related procurements.
India is planning to counteract China's influence in Sri Lanka. In this respect, two different stories in published in Indian media, need attention.
In this context, on April 27, 2017, on a website, LiveMint.Com, Elizabeth Roche under the title, "India renews Sri Lanka ties to counter China influence in South Asia" wrote, "India moved to cement closer economic ties with Sri Lanka in a bid to negate the growing influence of strategic rival China in the Indian Ocean region and South Asia. A pact on economic cooperation was signed in the presence of visiting Sri Lankan Prime Minister Ranil Wickremesinghe and his host Prime Minister Narendra Modi. The leaders welcomed the signing of the memorandum of understanding for Cooperation in Economic Projects, which outlines the agenda for bilateral economic cooperation in the foreseeable future", an Indian foreign ministry statement said without giving details—Both sides expressed their commitment to ensuring that this mutually beneficial agenda is expeditiously implemented."
Roche explained, "Analysts said this move by India was aimed at warding off increasing Chinese influence in South Asia which India considers its sphere of influence. In recent years, China has tried to co-opt Sri Lanka and the Maldives into its ambitious. One Belt One Road initiative—a programmes to invest billions of dollars in infrastructure projects including railways, ports and power grids across Asia, Africa and Europe—Given the subsequent hiccups in the neighborhoods first policy or placing—a deterioration of ties with Pakistan and strains in India-Nepal ties for instance—Modi seems to be looking at a new framework of ties with India's neighbours with the aim of countering Chinese influence, Mansingh said. The new formula includes an element of strong economic cooperation, he said, pointing to India announcing the extension of a $4.5 billion line of credit for development infrastructure and other projects in Bangladesh and another $500 million for defence hardware purchases for Dhaka during the 7-9 April visit of Prime Minister Sheikh Hasina to India."
Similarly, Indian media and websites gave much coverage to an article, published by German TV Channel (Which also publishes online news items) under the title "India Nips at China's Heels in Race to Collect Lanka Port Assets" written by Iain Marlow and Saket Sundria, April 26, 2017.
Iain Marlow and Saket Sundria wrote, "India is looking to invest in a colonial-era Sri Lankan oil-storage facility as it seeks to further its naval interests in the Indian Ocean and push China back in the process. A unit of state-owned Indian Oil Corp., the country's largest refiner, is set to help fund the $350 million development of an 84-tank facility at the strategically located Trincomalee port on Sri Lanka's east coast. India and Sri Lanka are also discussing setting up a refinery in the island nation, according to Shyam Bohra, managing director of Indian Oil's subsidiary Lanka IOC. The talks come before a meeting between Indian Prime Minister Narendra Modi and Sri Lankan Prime Minister Ranil Wickremesinghe in New Delhi. Still, India's interests in the Sri Lankan port are probably more strategic than economic, part of its effort to displace hefty investment coming into the country from China and preserving a key gateway to the Indian Ocean. China is expanding both militarily and economically in the region, and its submarines have docked previously in Colombo. Lanka IOC is managing the 15 tanks and a lubricant blending unit. The governments of India and Sri Lanka have agreed in principle to jointly develop part of the tank farm…The Sri Lankan government has suggested that Lanka IOC retain 74 of the 84 reconstructed tanks through an equal joint venture with Ceylon Petroleum Corp., Chandima Weerakkody, Sri Lanka's minister of petroleum resources development said by phone. The other 10 would be handed back to Ceylon Petroleum, he said… Shyam Bohra, managing director of Indian Oil's subsidiary Lanka IOC said…Lanka IOC is open to the joint development of the tank farm. Something should definitely happen because we are very keen to see to it that the facility is developed, However, Weerakkody…the minister compared India's investments unfavourably to China's. India should expedite their projects that they engage in, he said. Chinese investments—they are pretty quick. India's foreign ministry was not immediately available for comment. If India's investments materialize, the historic but relatively obscure port could become a hub for New Delhi, whose navy must go around Sri Lanka as it crosses from ports on India's west coast in the Arabian Sea to those on the east coast in the Bay of Bengal. But New Delhi's plans would almost certainly be worth far less than Beijing's ambitious infrastructure-building in Sri Lanka. China has already built a port at Hambantota in Sri Lanka's south in a move that alarmed Indian observers."
Iain Marlow and Saket Sundria further wrote, "Beijing has also invested heavily in Gwadar, a port in Pakistan that serves as the terminus of the China-Pakistan Economic Corridor.
As regards Nepal, on Nov 28, 2016, a memorandum was forwarded by the Greater Nepal Nationalist Front (GNNF) to the UN General Secretary Ban Ki-moon on facts, which disqualify India for attaining permanent membership of the UN Security Council (UNSC). The memorandum pointed out that "these days India is vying for a permanent United Nations Security Council (UNSC) seat. Greater Nepal Nationalist Front (GNNF) would like to register…reservations against Indian candidature for a permanent seat in the esteemed UNSC."
It said, "Nepal has been a victim of Indian hegemonic and high handed mentality. India imposed a blockade against Nepal…why was India annoyed with Nepal? Because the people of Nepal did not heed Indian advise on promulgating a Nepalese Constitution. India refused to accept the mandate of the people of Nepal as the constitution was approved by more than 90% vote of the Constituent Assembly. India continues to illegally occupy 60000 square Kilo Meters of Nepalese territory."
In this context, on March 25, 2017, ABC News conducted a talk programme/interview with Mr Phanidra Nepal (Mr PN) Chairman of Greater Nepal Nationalist Front, and Dr Bishnu Dahal. In the programme, the discussion was carried out on the need to change Nepal's foreign policy so that Kathmandu can maintain an equal level of relations with both Beijing and New Delhi. Mr PN said, "Border blockade, unrest in Madhesh, growing anti-India sentiments, excessive Indian interference in internal affairs of Nepal is largely the consequence of our faulty foreign policy and diplomacy…None of the current crises being faced by Nepal is an overnight development, rather these were expected long time ago due to India dependent policies of our country, but Nepalese leaders have failed to read the writing on the wall. China has never opposed maintaining good relations with India but India always managed to alienate Nepal from China. Most of the Nepalese leaders are guided by selfish motives and they try to climb an easy ladder to power through India. This is one of the main reasons that Nepal is subjected to undue Indian pressures, harassments and humiliations. Nepal will have to bear some economic hardship in the short term, but it can lessen all difficulties and achieve a sustainable growth in the long term if it adopts Chinese funded mega projects especially OBOR [China's One Belt One Road] to reduce dependency on a single country, i.e. India. India is worried about visits of Greater Nepal's campaigner Phanindra Nepal to China and through diplomatic channels may express her concerns."
In this connection, in an article, under the caption, "Nepal leader vows to revive Chinese dam project, open to review pact over Nepalese soldiers in India", Debasishroy Chowdhury wrote on February 25, 2018: "The campus was a US$350 million gift from China, which built it in two years and handed it over last year to the paramilitary force, which plays an important role in checking Tibetan refugees from entering Nepal. "Apart from the bricks and mortar, they brought everything from China. All the fittings, the furniture, everything," says a visibly impressed Shrestha as he points to the overhead projector and the desks in one of the many classrooms. "This entire campus in just two years, imagine the level of efficiency…As a new government takes power in Kathmandu, this widening rift puts it on the cusp of a geopolitical transformation as Nepal seeks a hedge in China to counterbalance India's traditional dominance."
Nevertheless, India's endeavour to alienate Nepal from China will not succeed, as a majority of the Nepalese is aware of this duplicity of New Delhi.
Regarding the Maldives, David Brewster pointed out on February 8, 2018: "Maldives opposition leaders, such as former president Mohamed Nasheed, are pushing for India to again intervene to restore democracy. However, Delhi's biggest worry about the Maldives is not the current threat to democracy, but its tilt towards China, especially the possibility that Beijing may establish a naval and airbase there." 
In the recent past, under the title, "Cold War between China and India",  Jamshed wrote,
"Evidently the relationship between China and India has been strained due to border disputes and economic competition…However, both the countries are in the race to influence the region due to its geo-strategic location…The Global Times said in a recent editorial, "India has a strong desire to control all South Asian countries. It regards the region as its backyard. New Delhi is particularly sensitive to any endeavour by small South Asian states toward independence and autonomy, especially ties with other major powers. All small South Asian nations want to extricate themselves from India's excessive leverage." Particularly in the case of the Maldives, India has some very alarming type of fears and apprehensions with reference to the increasing Sino-Maldivian closeness. On request of the Maldivian government, China has consented on doing co-operation in the construction of a port in Northern Atoll. Moreover, last year on 8th December 2017 a Free Trade Agreement (FTA) was also signed between the Maldives and China during Maldivian President Abdulla Yasmeen's four-day visit to Beijing. By signing this agreement, the Maldives became the second South Asian country after Pakistan to sign an FTA with China. This deal also proved a 'stunning blow' for India. Earlier in August 2017, the Maldives permitted three Chinese warships to visit the country, though India had expressed its strong resentment over the decision. Same is the approach of India towards the countries like Nepal, Sri Lanka, Bhutan and Myanmar and even towards Bangladesh. Whereas, China also wants to have its presence as well as influence in the region."
An analyst wrote, Nepal maintains cordial ties with all its neighbours. Since it is one of the less developed countries in the region, it is interested in seeking investment for its economic development. Kathmandu intends to diversify its economic interdependence and develop its reliance on all the South Asian countries for resources and development. Nepal and Bhutan can be a big source of hydropower for neighbours. Bhutan and Maldives view regional economic cooperation as a strategy to bring about economic self-reliance and mutual prosperity. Bhutan aims to improve air links and telecommunication between member states. The Maldives, on the other hand, is interested in joint economic ventures, and in achieving greater liberalization of its economy. China's observer status in SAARC was a product of the push from Nepal, Bangladesh and Pakistan. China is investing in several infrastructure projects such as the China-Pakistan Economic Corridor (CPEC) and Bangladesh-China-India-Myanmar (BCIM) Corridor in South Asia. It is also investing in mega projects in Sri Lanka and the Maldives and enjoys cordial relations with Nepal."
Besides, as part of the double game, based in Afghanistan, CIA-led Indian RAW and Israeli Mossad are also destabilizing Afghanistan and Pakistan through terrorism-related attacks and are giving a greater setback to the collective efforts of Russia, China and Pakistan which want peace and stability in Afghanistan.
Nonetheless, China is successfully countering Indian influence in South Asia. New Delhi will have to understand that maintaining hegemony in the region through negative planning is a bad idea in the 21St century. If India has to create a positive role, she will have to lend a hand to its Chinese investment in Bangladesh and other South Asian countries.
Sajjad Shaukat writes on international affairs and is the author of the book: the US vs Islamic Militants, Invisible Balance of Power: Dangerous Shift in International Relations
Email: sajjad_logic@yahoo.com